UK's Marshall brand, which is popular among musicians for its amplifiers and sound equipment, has recently introduced in the Philippines new Marshall headphones and speakers, which include the Mode, Mode EQ, Acton and Woburn.
The new products all carry the Marshall legacy in both design and technology. For example, the new Marshall headphones Mode and Mode EQ, which are in-ear, are crafted nicely with gold metal highlights and the iconic Marshall logo. While the Acton and Woburn speakers are nicely packaged to look exactly like the actual Marshall amplifiers, with all the black leather texture and the knobs for volume.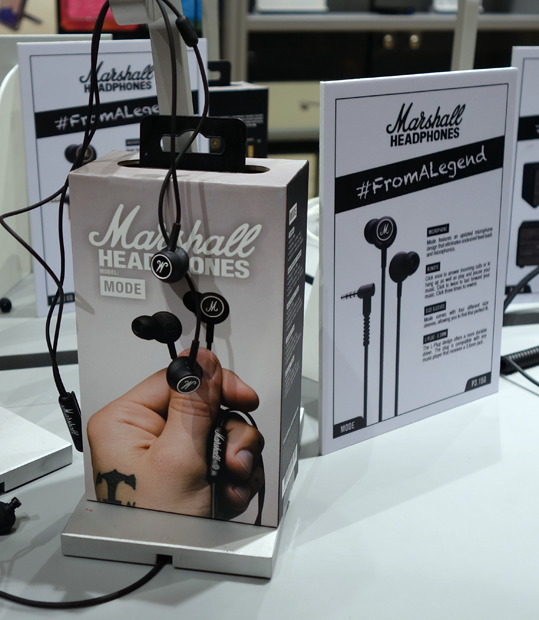 Marshall Mode and Mode EQ headphones
Marshall Mode and Mode EQ feature customized drivers that deliver high-output sound at minimal distortion. In addition, their unique in-ear design anchors and provides a comfortable fit. The Mode comes in black with white brass while the Mode EQ comes in black with gold brass. They both have a remote feature with an updated wire clip, which allows you to easily attach the headphones to your T-shirt.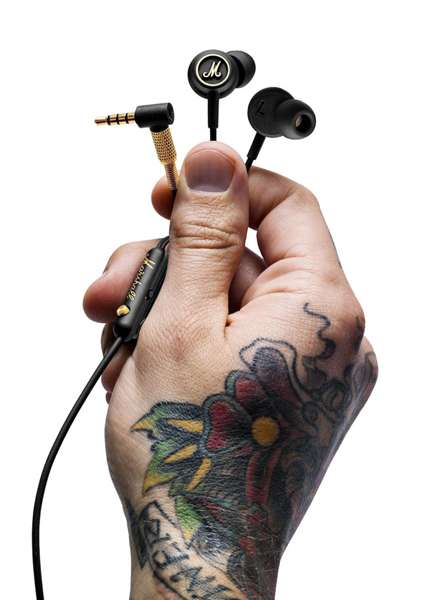 The Mode EQ features an EQ switch on the remote, allowing you to customize your sound experience even more. It lets you choose between two sound steps  EQ I, if you like a warmer, bass-heavy sound, and EQ II, if you prefer music brighter, with an emphasis on mids and highs.
The Marshall Mode retails for P3,150, while the Marshall Mode EQ is available for P4,450.
The Acton, which comes in black or cream colors, is an impressive and compact active stereo speaker packing some serious power into its stout frame. Completing the ultimate set-up in your home or office, this pint-sized speaker will bring style and sound to even the smallest of spaces.
The Acton's powerful deep bass seems to defy the laws of nature for its small size. Its  Hi-Fi qualities packed into a classically designed and compact frame  set the Acton apart, positioned to take on even the largest of competitors. Acton's custom control 3 analogue interaction knobs allow you to fine tune it to the exact sound you desire.
The Marshall Acton is now available for   P15,950.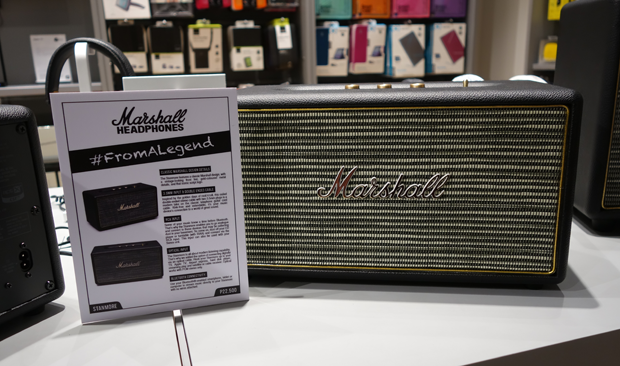 Marshall Woburn speaker
With its unique sound and design and quality components, the Woburn is built to thrill.
This loudspeaker hits high trebles cleanly, handles low bass with ease, and has a clear and lifelike mid-range. The analog treble, bass, and volume knobs give you custom control of your sound. With two standby modes, power saver and standard, it also minimizes the speaker's environmental impact when not actively in use. The overall experience is powerfully rendered music full of punch and drive.
The Marshall Woburn is now available for P28,500.
The new Marshall products are available at the following stores:
Astroplus, Avid Surfer, Beyond the Box, BZB Gadget Hive, Cebu Audiophile, Complink, Digital Arena, Digital Hub, Digital Walker, E-Central, Egghead, Heima, iCenter, iCon, iStore, iStudio, Lazada (online), Listen Up, Listening Room, Mobile 1, Odyssey, PC Hub, PowerHub, Quicksound, Republik, Senco Link, SM Music & Video, Spectra, Stored Inc, Switch, Sync, Technoholics, TechSavvy, TechShop, and Technopop.