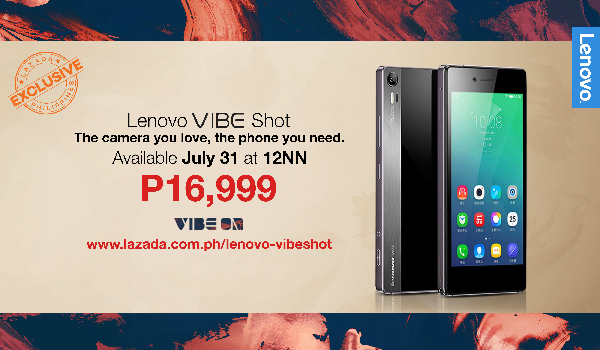 Lenovo has launched its affordable flagship handset VIBE Shot smartphone in the Philippines and it will be available for an introductory price of Php 16,999 at online store Lazada starting July 31.
Lenovo VIBE Shot will also be available at Lenovo Mobile Exclusive Stores and authorized retailers nationwide beginning mid-August at an SRP of Php 17,999.
The VIBE Shot will come bundled with a free screen protector (worth Php299) and a free back cover (worth Php599).
As a camera smartphone, the VIBE Shot comes fitted with a 16MP main camera and 5.0" Full HD screen. Apart from its great camera features, the new smartphone is thin at only 7.6 mm. It features a very eye-friendly design highlighted by full aluminium outer frame, including front and back Corning Gorilla glass.
Lenovo's new flagship, as its new name indicates, is part of the company's new brand promise "VIBE ON."
"Lenovo's new and vibrant VIBE ON brand promise which aims to empower individuals to go their own way, by providing smartphones with the latest technology and features that they care about, at a price they wouldn't expect," said Dino Romano, Country Lead, Lenovo Smartphones, Philippines. "It is a stylish and powerful smartphone that consumers want, and an advanced camera that budding and seasoned photographers will love to use."
According to Inanc Balci, chief executive officer of Lazada Philippines, it is the second time his company partnered with Lenovo. Lazada successfully sold Lenovo A7000 a couple of months ago.
"With our market leadership and being able to reach millions of consumers in the Philippines and in Southeast Asia, we are confident that our partnership with Lenovo will contribute to their continued pursuit of innovation and success," said Balci during VIVE Shot launch held an Art in the Island, in Cubao, Quezon City.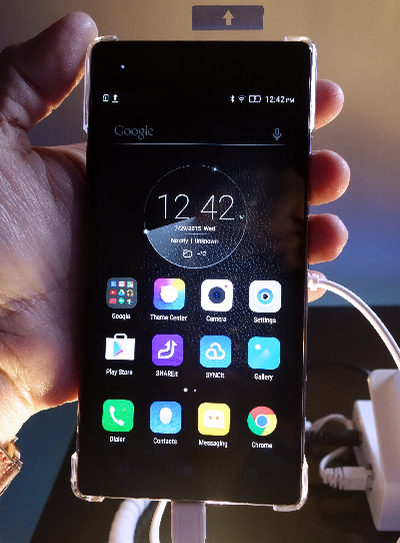 Key features of VIBE Shot:
 A dedicated shutter button, which can be used to instantly activate the camera function.
It has an infrared auto-focusing (AF) system, which is twice as fast as a conventional autofocus.
 A tri-color LED flash that ensures more realistic skin tones
A 16:9 BSI sensor for superior low-light performance and clarity for shooting images in darker interiors or at night; plus optical image stabilization for reduced blurring should the camera shake while shooting
At the flick of a switch, users can easily toggle between the camera's Auto and Pro modes.
Auto Mode features Smart Composition function that incorporates automatic scene detection and an onscreen "point & shoot" guidance.
The Pro mode, on the other hand, gives enthusiasts manual controls like aperture, shutter speed and ISO settings, enabling limitless compositions to unlock their creativity.
Panoramic selfie feature that lets you take three selfies and turn them into one that includes more people.

The new Lenovo VIBE Shot will be available in Carmine Red and Graphite Grey to reflect each user's distinct persona and digital lifestyle. A Pearl White version will also be launched in Q4 2015.