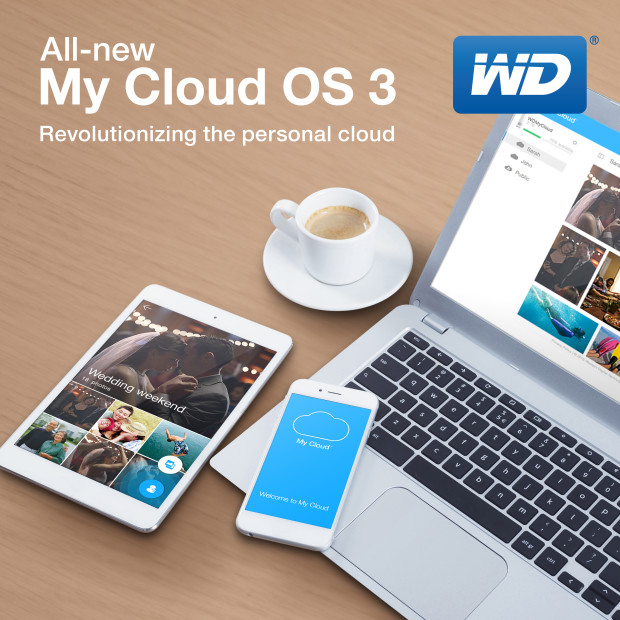 WD recently announced enhancements to its family of My Cloud personal storage devices, which include a redesigned My Cloud OS 3 operating system and Software Developer Kit (SDK).
The new My Cloud OS 3 operating system enables enhanced app integration and a dual-drive My Cloud Mirror personal cloud storage, offering increased memory and faster processing performance than previous generations.
WD's My Cloud OS 3 now features an intuitive user interface that delivers a rich content-sharing experience, while its back-up and sync capabilities elevate the personal cloud NAS offering, with the user still retaining the privacy and control over personal cloud devices located in the home or office.
"We know our personal cloud customers place the highest value on their personal content and enjoy the peace of mind from backing up PCs, smart phones and tablets to and centralizing content on their My Cloud systems," said Jim Welsh, executive vice president and general manager of Content Solutions business at WD. "They tell us they are confident in the privacy, control and anywhere access we provide them with the My Cloud OS. Now, with My Cloud OS 3, we've made users' management of their digital lives easier than ever before."
Features of the new My Cloud OS 3:
My Cloud OS 3 features new photo and video capabilities. MyCloud.com provides users global access to their My Cloud via an intuitive web browser-based user interface and enables file collaboration, comprehensive access management and a photos and videos gallery view.
The new WD Sync feature syncs data across multiple PCs and notebooks, ensuring that important files are up to date and available to users from almost any device.
The new OS also allows users to set up automatic camera-roll backup of photos from smartphones and tablets and offers a new transfer tool that enables users to easily and quickly move their files to My Cloud devices.
The OS also includes Chromebook and Chromecast support.
As part of the My Cloud OS 3 launch, WD has introduced My Cloud Device SDK and My Cloud API enabling developers to build new extensions, features and capabilities within the My Cloud ecosystem of personal cloud storage devices.
The My Cloud Device SDK, based on the Docker™ open platform technology, ensures developers can easily access and collaborate to create customized experiences. Partners already developing extensions and new features based on the new SDK include Plex and Milestone.
In addition to new software upgrades, WD has also introduced a new version of My Cloud Mirror personal cloud storage devices, featuring two hard drives set to Mirror Mode (RAID 1), ensuring content is stored on one drive and automatically duplicated to a second drive. My Cloud Mirror personal cloud storage includes the new features announced for My Cloud OS 3 and an improved processor and 512 MB RAM for faster file transfers and application support.
WD My Cloud OS 3 will be available at the end of the month as a free download on current My Cloud personal cloud storage devices. My Cloud devices supporting the new OS 3 include: My Cloud, My Cloud Mirror, My Cloud Expert Series EX2/EX4, My Cloud Expert Series EX2100/EX4100 and My Cloud Business Series DL2100/DL4100. Customers can also download the new WD My Cloud mobile apps, which are now available on the iTunes and Google Play stores. All WD My Cloud devices are available today at select retailers and distributors. Access to My Cloud Device SDK and My Cloud API will be available to interested developers late October.
My Cloud Mirror will have a Manufactured Suggested Retail Price (MSRP) of 4 TB Php 15,990, 6 TB Php 20,990, 8 TB Php 25,990 and will be available at select retailers and distributors later in October.