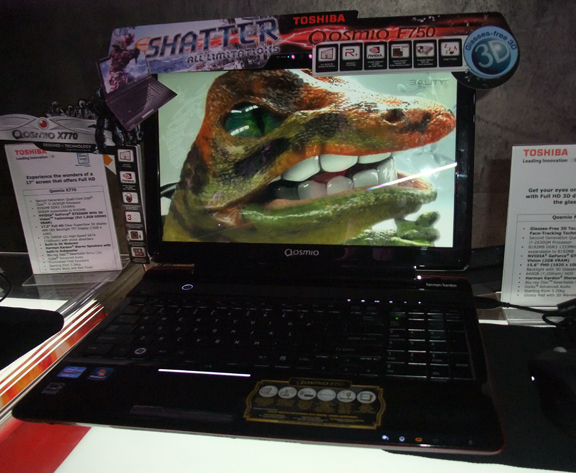 Consumers have yet to adapt to the emerging 3D technology, which for quite some time now has been popularly promoted as a 3D-capable HDTV or a notebook PC working in tandem with bulky pair of glasses.
But Japan PC maker Toshiba has a different view of 3D technology. It recently unveiled the world's first glasses-free 3D notebook PC that is able to display 3D and 2D content in separate windows in a single screen.
Positioned as a gaming laptop, the Qosmio F750 3D is a 15.6 inch-screen notebook PC that allows the user to view high-quality 3D images or 3D games in one window without the need to wear dedicated glasses. While in another window also within the screen, the user can browse the Internet or send an email.
Toshiba's glass less 3D technology has been introduced into its HDTVs in December last year. The Toshiba 21GL1 and the 12GL1 were the first 3D TVs that required no special glasses.
Toshiba's very own 3D technology employs parallax barrier technology, a new panel technology capable of creating 3D images by delivering separate images to the left and right eyes without requiring a pair of glasses to do that. Other 3D technologies necessitate the use of glasses to be able for the left and right eyes to see the separate images.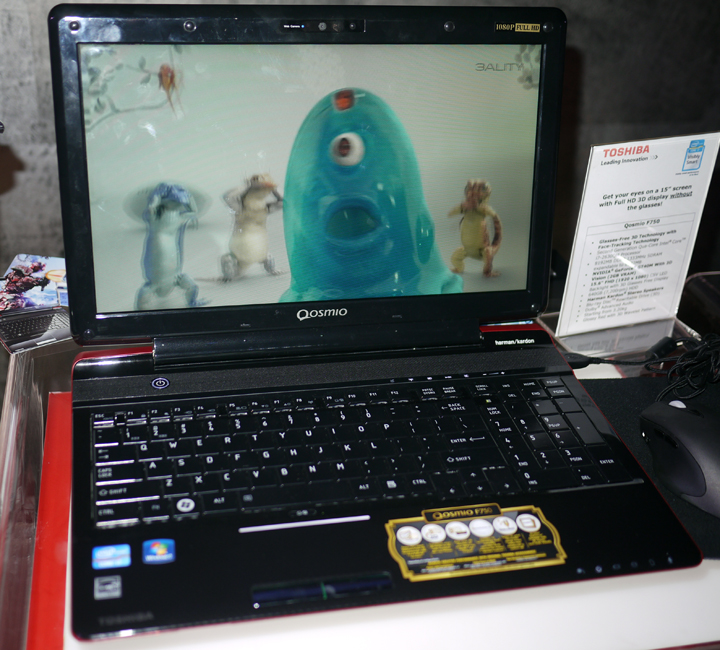 With parallax barrier technology, separate images should be properly delivered to each eye to produce 3D image. To be able to accomplish this, Toshiba also employs "face-tracking" function and "Active Lens," which secure precise delivery of separate images to each eye, even when the user moves.
"Face-tracking" allows the web camera integrated into the Qosmio F750 3D to track the user's face and recognize the position of the eyes. The camera with face tracking technology also provides a large 3D viewing zone without blind spots.
On the other hand, the "Active Lens," which is integrated into the LED panel, controls polarization of light delivered from the panel. Toshiba uses a switchable Active Lens to separate the two parallax images and to guide them into the left and the right eye.
As the Active Lens can be switched on and off quickly and locally, individual parts of the LED panel can deliver 3D images and this allows for both "3D Window" and "2D Window" to appear simultaneously on one display.
The Qosmio F750 3D can also convert high-quality 2D content to 3D content through real-time conversion. The laptop also features Intel Core i7 Sandy Bridge processor, NVIDIA GeForce GT 340 M (2 GB dedicated VRAM), 8 GB DDR3 memory, Blu Ray drive, USB 5.0, Bluetooth 3.0, WLAN, and Harman Kardon stereo speakers and Dolby Advanced Audio.  SRP is still to be announced.