Local phone maker Cherry Mobile has started to foray into the mid-range smartphone market by introducing the "Dragon" phone or the W900, a 4-inch WVGA (800 x 480 pixels) capacitive display Android smartphone that features an attractive design that highlights curves, piano finish, and infinity display. It is also powered by a 1.2 GHz Qualcomm Snadragon processor and dedicated 1 GB internal memory, features found in many high-end branded handsets.
Cherry Mobile officials say the W900 "Dragon" phone is intended for users who already have an entry-level Android phone but want to upgrade into a smartphone with better and bigger screen size.
After all, the experience of a smartphone is always optimized on a larger screen as the phone can now be more comfortable to use when navigating web pages, watching movie clips, or even typing a document. At a price point of P9,999, the W900 provides all these and more.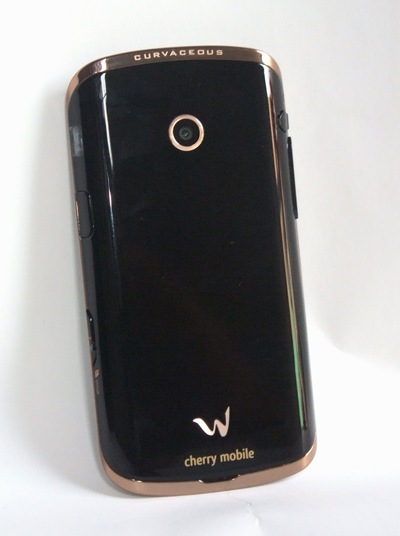 The W900 comes in two colors: black and white. The one we got our hands on is a midnight black color phone highlighted by a gold strip hugging all the sides. More gold color highlights can be found such as the "W" mark and the rear camera bezel. Design-wise, the W900 look the part of a high-end device except that it has a feel of hard plastic; it even has a very striking semblance to BlackBerry Torch 9860, a touch BlackBerry handset released last year that until now is priced within the P20,000 range.
Another key feature of the W900 is the presence of dual cameras that have automatic in-depth focus to compensate for the obvious absence of flash. The rear 5MP camera gets the job done as far as shooting still and very well lit subjects but it doesn't handle well movement or even indoor shots.
However, the application that came with the camera function has commendable features as the user can edit a photo, put different modes or filters (beauty, split, shot, lomo, and panorama) and even configure the size and quality of the image. As it is an Android phone running on Gingerbread (Android 2.3.3), taken images and even videos can be easily shared via email and social networks or even through DLNA (digital network living alliance).
To save on battery because it has a rather big screen size, the W900 has an Eco-mode switch, which is a tiny hardware button located below the power button. Press this and it takes you to a screen where you can shut off functions that drain battery use. By the way, the phone also has a task killer app.
Browsing, playing YouTube videos, and playing games is also fast, courtesy of course of the 1.2 GHz Snapdragon processor, which by the way where the name "Dragon" originated.
Users can also personalize phone. Frequently used applications can be given more focus with the phone's App Shade capability. Your favorite app icons are highlighted through color contrast for efficient management and use.
As this is a Cherry Mobile handset, users can enjoy the Cherry Mail app, which is a combined messaging and email app that use data or Internet. It has a similar function to BlackBerry messaging since it allows free exchange of messages coming from Cherry Mobile handsets via Wi-Fi or 3G. You just enroll friends with Cherry Mobile handsets and you can swap messages for free. Users can also have access to Cherry Music, which is an online store that features a lot of Filipino music, as well as Cherry Shop, a portal where users can access more freebies from Cherry Mobile.
Another notable thing about the phone is the inclusion of a good recorder app (which I know there are many that can be downloaded for free from the Google Play but it's just hard to choose a good one that's free), that allows you to record an ongoing conversation, which it saves as an .amr file.
Cherry Mobile W900 has everything a mid-range Android phone would have such as Wi-Fi, portable hotspot, GPS, big screen and all–but be sure to buy a protective screen cover for the handset as the display is prone to scratches.
Here's a photo gallery comparing the appearance of Cherry Mobile W900 with BlackBerry Torch 9860:
[nggallery id=3]