Consumers now tend to own more than one or two "screens," according to a survey. Screens refer to Internet networked computing devices that may be mobile like tablet, smartphone, or notebook, or stationary ones like a desktop all All-In-One. Truly, consumers' technology landscape has been rapidly changing with people relying more and more on Internet services, a trend which PC makers such as Asus fully recognize, embrace and encourage through its new products.
To satisfy the demand for more "screens", the Taiwanese giant IT firm has introduced en masse its Windows 8 touch enabled devices starting with its flagship Taichi hybrid dual touch screen ultrabook down to inexpensive Vivo products, which include both a touchscreen notebook and tablet with keyboard dock.
ASUS TAICHI
The Asus Taichi, so far, is the most unique hybrid notebook-slash-tablet among the hybrid Windows 8 products already announced.
As thin as an ultrabook, it features a dual-screen design with back-to-back full HD displays. With the lid open, it is a high-performance notebook, allowing the user to still make the other display work—which can be used simultaneously by another person for collaborative work.
When the lid is closed, Taichi instantly becomes a lightweight multi touch tablet for easy and intuitive use with Windows 8.
A dual touchscreen design really looks promising to engage consumers in a new way to enjoy a computing device, however, the collaborative work it promises to bring needs improvement as the device only allows a single mouse to function when both screens are active. Use of the mouse to trigger applications and processes would have to be switched between two users.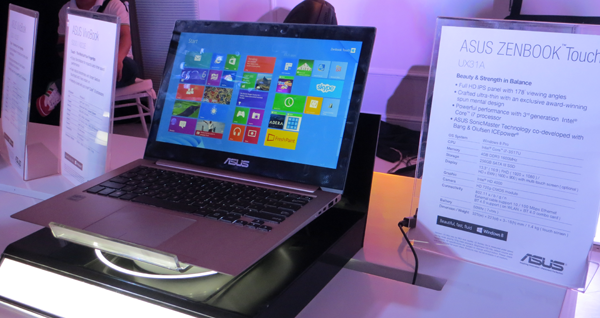 ASUS ZENBOOK Series
The Asus Zenbook Series expanded to include a model with touchscreen display.
The newly expanded ASUS ZENBOOK Series of sleek and stylish ultraportables now features a range of specifications and screen sizes to suit every mobile need. ZENBOOK features an award-winning, precision-engineered,
The new model also features a beautiful spun-metal finish and a stunning razor-thin profile, brilliant high-definition displays, powerful quad-core processors and lightning-quick solid-state storage feature throughout. The multi-touch model gives full gesture control with Windows 8.
ASUS VivoBook Series
ASUS VivoBook S200 and S400 ultraportables offer a stylish combination portability, durability and affordability for mainstream Windows 8 users. With specifications that include 3rd generation Intel Core processors for excellent multi-tasking performance, VivoBook is available with an 11.6" or 14" high-definition screen and features a large multi-touch touchpad, incredible SonicMaster audio, and a choice of hard drive and hybrid storage.
ASUS VivoTab Series
With slim, light designs and optional lightweight keyboards,
The Asus VivoTab is a Windows 8 optimized tablet offers a perfect balance of portability and productivity. With a resilient metallic finish and high-definition multi-touch displays, both the 11.6" VivoTab with Windows 8 and 10" VivoTab RT with Windows RT feature Super IPS+ technology for a brilliant image with wide viewing angle. Both models also feature an optional keyboard dock with built-in battery for up to 19 hours' mobile use and VivoTab also includes a Wacom stylus for high-precision input.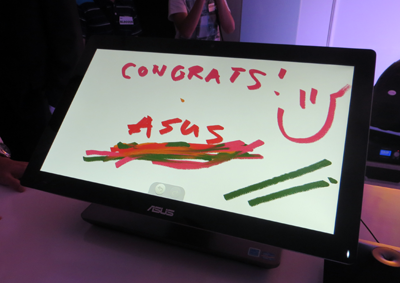 ASUS All-in-One PC ET2300
Perfect for both productivity and home entertainment, the ASUS All-in-One PC ET2300 is a sleek and compact all-in-one desktop PC with a stunning 23" high-definition display. Thanks to a specially designed hinge that lets the screen be used at almost any angle, ET2300 folds flat to the table-top for multi-touch use with Windows 8 and sits upright for traditional productivity use. ET2300 is also the all-in-one PC with spatial-audio array speakers and two subwoofers impressive cinematic sound quality