Samsung Galaxy NX lets you capture scenic and beautiful places and at the same time allows you to share the pictures into a story worth telling online.
The new Galaxy NX is the first interchangeable lens compact camera system from Samsung that features 3G/4G LTE and WiFi connectivity, which allows users to stay constantly connected via the Internet and turn experiences captured with the camera into a story that can be instantly shared with anyone from wherever they might be.
This camera runs on Android 4.2 Jelly Bean, allowing users to tap into the entire universe of Android apps to personalize the Galaxy NX and do more than just shoot amazing photographs and video. With the Galaxy NX, you can edit images, add special effects, and stay in touch with friends and family.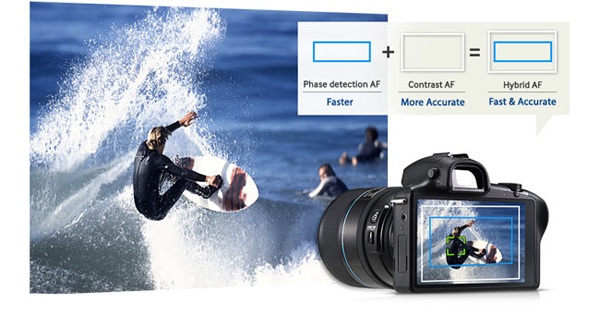 This compact camera is equipped with a 20.3 megapixel APS-C Sensor to produce stunning image quality. This feature works alongside the DRIMe IV Image Signal Processor to allow for handling large file sizes of images and videos with speed and accuracy.
The Galaxy NX is also fitted with an Advanced Hybrid Auto Focus (AF) System that ensures accurate phase and contrast detection for crisp, vibrant shots. This compact camera also allows the photographer to capture images at a burst of 8 frames per second at 1/6000 sec shutter speed which assures that you don't miss a moment.


The flexibility offered by the Galaxy NX's selection of interchangeable lenses places creative control firmly in the hands of the photographer.
From compact pancake lenses and an ultra-wide fisheye to exquisite longer prime and zoom lenses, the extensive range of lenses help change users' perspective of their world to create images that are truly special. The wide lens selection aids the photographer tell his story in a new way.
The True 3D Creator featurebrings an added element of realism to this camera as it allows users to shoot images and movies in 3D with Samsung's 45mm 2D/3D lens.
Other notable features include the Photo Suggest, which helps the user capture a particular scene and mood of a particular place or destination. This feature provides location-based recommendations of popular photography spots sourced from a huge library of images taken by fellow photographers across the world.
The Story Album function lets the users enjoy timeless memories by displaying special moments in one timeline, reframing and resizing the photos to create digital photo books which can be viewed and shared with other devices.


The Galaxy NX is packed with more than 30 Smart Modes. The user can choose the optimum setting in any shooting conditions, as well as create fresh, artistic images.
"Multi Exposure" merges two different shots together to produce one distinctive image, while "Animated Photo" connects continuous shots of up to five seconds, creating a moving GIF file.
For added realism, "Sound & Shot" stores sound and voice together as the picture is taken, so moments are captured exactly as they happened.
For added personalization, Camera Studio allows users to easily customize settings with their most frequently used applications or camera modes, making sure photos are captured exactly as desired.
Embracing the era of visual communication, the new Galaxy NX provides an outlet for passionate photographers to express and share their exciting experiences immediately wherever they are.