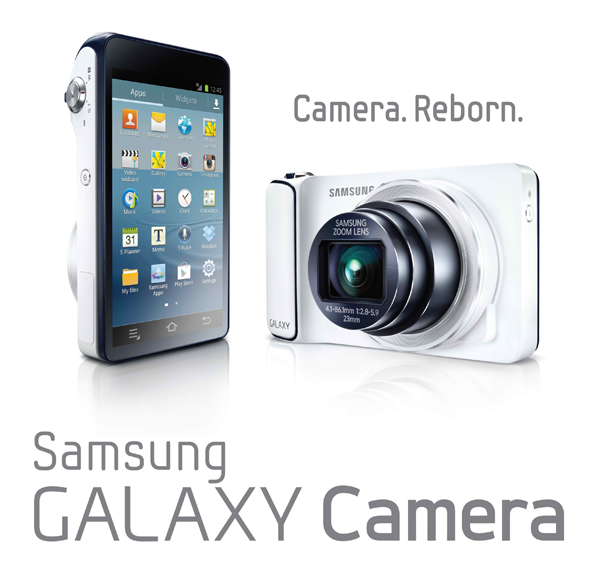 Is it a smartphone with a great camera or a camera with a great smartphone? Samsung Electronics Co., Ltd has just launched at IFA trade show in Berlin, Germany, the GALAXY Camera, which uniquely combined high performance photography with an Android 4.1 or Jellybean OS. Like a Samsung smartphone, it has touch screen user interface and apps.Similar to previous Samsung cameras that already feature wireless network connectivity, the Samsung GALAXY camera is also able to send data wirelessly, but minus a call function. But since it has Android OS, which makes it capable of access to apps, and capability as well to connect via 3G and even 4G connectivity, it's very possible to use voice over IP apps such as Skype, Viber, Fring, or Tango.
It is only a matter of time when smartphone technology and camera technology really converge to provide a seamless function. Samsung is way ahead of the others in producing a camera product that is apps-oriented, but still its core function is to shoot magnificent photos to satisfy the needs of the creative people out there.
It's totally understandable why Samsung would really think about putting a smartphone operating system into the GALAXY camera, which is to provide the camera with more capability to edit and share high quality photos, including videos, easily and spontaneously from anywhere and anytime.
With the new GALAXY camera, Samsung is paving the way for "visual communication."
In a press statement, JK Shin, president of IT and mobile communications division at Samsung Electronics, said with the growth of social networks and smart devices, people are increasingly communicating with photos than words.
"As we increasingly articulate our experiences through pictures and videos the GALAXY Camera has been created to lead the way in this new era of visual communication. Communication becomes more vivid and lively with high-quality images and instant sharing anywhere, anytime."
The Samsung GALAXY Camera makes outstanding photography on the go. Users never again have to sacrifice picture quality if they want to edit and share their photos instantly. It can easily outperform any smartphone camera, according to Samsung.
But what truly revolutionizes this camera is the Android 4.1 Jelly Bean and wireless connectivity, which opens up the device to applications for photo-editing, sharing, and much more.
Features of the Samsung GALAXY Camera include a 21x super long zoom lens and a super-bright 16M BSI CMOS sensor, delivers pictures in brilliant quality.
"Smart Pro" technology is a series of modes that make professional-looking photography easy for anyone to achieve.
With this feature, it is easy to recreate advanced photographic setups in just a few simple steps for stunning artistic results. Using the easy-to-navigate menu system, users can choose from a series of preset scenario options which will automatically adjust the camera's settings.
For example, the "Rich Tone" setting delivers images with greater intensity – particularly effective for reducing overexposure in bright surroundings, while the "Light Trace" setting automatically controls shutter speed for atmospheric night scenes full of light trails.
The Samsung GALAXY camera is fitted with a 16 Megapixel 1/2.3" BSI CMOS sensor captures images in brilliant color and resolution, while the 23mm aperture lens delivers impressive wide-angle shots incomparable to smartphone pictures.
Another advantage of smartphone technology is the inclusion of a Voice Control option which allows the user to control a number of functions such as "Zoom in" and "Shoot" through voice.
The GALAXY Camera includes a comprehensive set of 35 powerful photo editing features through the 'Photo Wizard', allowing users to make professional quality edits on the go. The new features take advantage of the ultrafast quad-core processor and HD Super Clear LCD, giving access to a feature like Auto Face Calibration so edits can be made in precise detail and with ease. The 'Movie Wizard' also allows users to create and edit expert-quality videos easily from the touch screen.
Like the UI of a smartphone, the GALAXY Camera features Smart Content Manager, an innovative on-device organization tool which intelligently creates folders, tags faces, and even suggests which pictures to delete when they don't come out as desired.
The internet capabilities of the GALAXY Camera are equal to those of the latest smartphone so that users can get even more enjoyment out of their device.
In addition to the pre-installed applications from Samsung, users can browse the web and enjoy any applications from Google Play or Samsung Apps stores. If users are not sure which app to download, 'S Suggest' will help them recommend a new photo editing app or fun game to download.
The camera's convenient 'Auto Cloud Backup' feature will automatically save precious photos into the cloud via Samsung's AllShare the instant they are taken.
The GALAXY Camera also allows users to share photos at the same time as they shoot them with 'Share Shot.' As well as sharing to social networks and cloud services, users can also connect to a range of GALAXY devices including the GALAXY SIII and GALAXY Note II for effortless and automatic sharing of pictures across the GALAXY family.