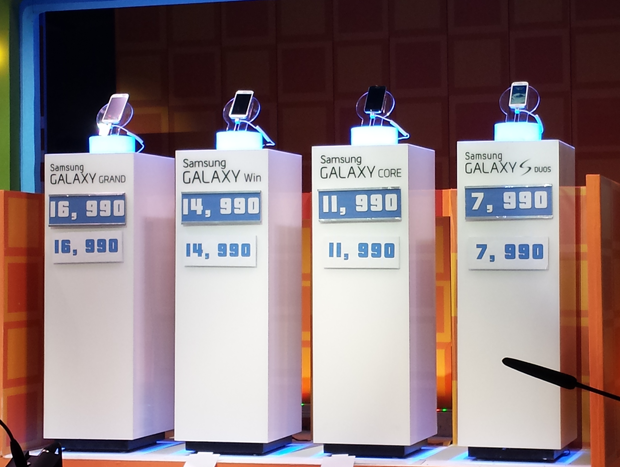 Samsung has launched the Samsung Galaxy Win, Galaxy Core, Galaxy S Duos–three "value-for-money" smartphones that feature dual SIM, completing its affordable line-up of Android smartphones. Previously, Samsung has already released the 5-inch dual SIM Samsung Galaxy Grand for this particular market segment.
All these smartphones are dubbed as the Smart Choice Series smartphones.

With the availability of the new smartphones, Samsung is dead serious about further expanding its own brand of Android smartphone technology to the greater number of people, particularly those on a budget but want a smartphone packed with features.
The prices of the new Samsung smartphones, which all feature larger screen sizes, range only from P16,990 for the Samsung Galaxy Grand and P7,990 for the 4.0 inch display Samsung Galaxy S Duos.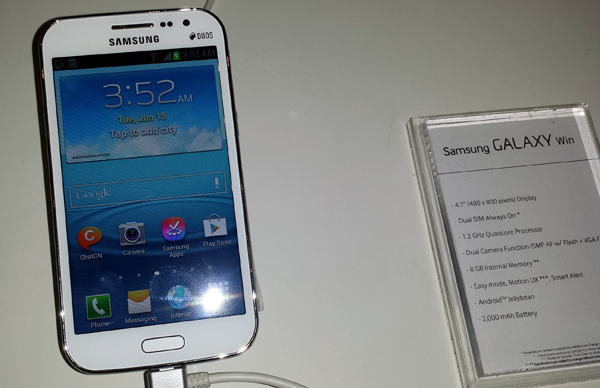 The 4.7-inch display Samsung Galaxy Win has an SRP of P14,990 and the 4.3 inch display Samsung Galaxy Core features an SRP of P11,990.
Now, owning a smartphone will no longer cost you an arm and a leg, according to Samsung's Eric Sulit, product marketing group head.
The new smartphones are also packed with Samsung-propriety features, even though they're on the "affordable" side.
"In this day and age, we believe everyone deserves to have a smartphone," declares Eric Sulit. "We at Samsung are always on the lookout to bring technology on the hands of as many Filipinos as possible, and these Samsung large-screen, dual-SIMsmartphones are our way of making that vision happen."
Samsung Galaxy S Duos is packed with frequently used smartphone features and more. It runs on Android 4.1 Ice Cream Sandwich; has a built-in organizer, a photo and video editor, and document viewer; and also has a card slot for a microSD to expand its capacity up to 32GB. It also has a 5-megapixel rear camera and a VGA front camera.
The Samsung Galaxy Core, on the other hand, aside from its sleek design it allows people on the go to do multiple tasks seamlessly. This 4.3-inch handset has a 5-megapixel rear camera with an LED flash and a VGA front camera, an 8GB internal storage and a microSD slot, and a slew of other features such as Motion UI (Shake & Top to Bottom), Smart Stay, Smart Alert, Best Shot, and S Voice.
The Samsung Galaxy Win features a 1.2 GhZ Quad Core fast processor, a 4.7-inch screen, Motion UI (Shake & Turn to Mute) and SMART alert.
The Samsung Galaxy Grand sports a 5-inch screen for ease in viewing and an impressive 8-megapixel rear camera complete with LED flash. It has a multi-window feature allowing users to multi-task with ease, and like the other three models, it's great for users with two active SIM cards. The Galaxy Grand also has features such as the Smart Stay, Direct Call, S Voice, Pop-Up Play and All Share Play.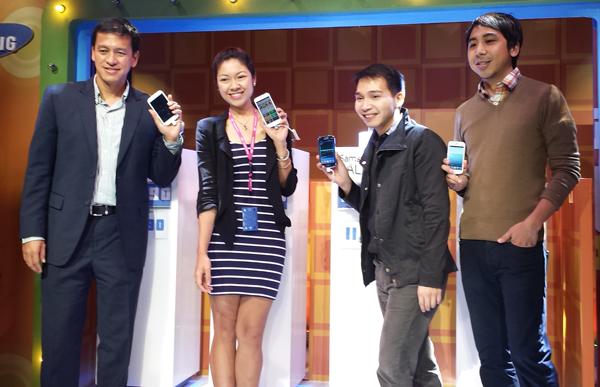 Complementing its top-of-the-line models, Samsung recently launched the fab four in value-for-money smartphones via a game-show inspired event at KPub. On hand to welcome the guests were Samsung officials headed by Samsung Mobile's Business Unit Director Eric Sulit, and Product Marketing Group head Coco Domingo.