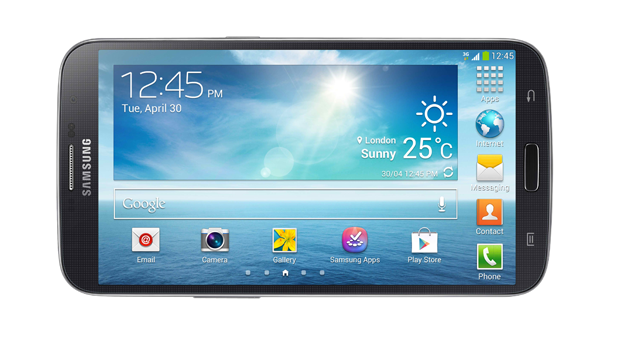 Recently, Samsung has introduced yet another Galaxy– the Samsung Galaxy Mega, an ultra-thin "phablet" that features a 6.3-inch HD screen and a 5.8-inch screen.
It seems the Korean electronics giant is dead serious about the propagation and use of so-called phablets, which is a combination of a smartphone or a tablet.
According to Samsung, the Samsung Galaxy Mega offers a mix of popular smartphone and tablet features such as an effortless user experience, a split screen, multitasking between video and other apps and more, which are features found in other Samsung Galaxy devices.
Definitely, the bigger screen of Samsung Galaxy Mega is ideal for viewing videos, browsing and even reading e-books.
Both Galaxy Mega 6.3 and 5.8 run on the latest Android 4.2 Jelly Bean experience, and feature Dual Core Processor, spacious internal storage along with up to 64GB of expandable memory to store favorite apps, music, videos, photos and more.
The GALAXY Mega will be available beginning June 15, 2013.
Samsung Galaxy Mega's features include the following:
• Group Play: Enables easy content sharing for up to 8 devices on the same Wi-Fi network.
• Samsung WatchON: Transforms into an IR remote controller for a richer TV experience. Connect the device to your home entertainment system, and it will provide program recommendations, schedules, and even remotely control your TV.
• Samsung Link: Easily streams photos, videos, notes, or music to your television, tablet or computer.
• S Translator: Say or text what you need translated into the GALAXY Mega, and it will provide instant translation, using text or voice translation on applications including email, and ChatON.
• ChatON': Share what's on your screen with friends to stay more connected.
• Split screen capability for a variety of applications including email, messages, 'MyFiles,' 'S Memo,' 'S Planner', and more, makes for increased efficiency. With the popular 'Air View' feature, customers can preview information in emails, photos in Gallery, and speed dial contacts.
• 8 megapixel rear-facing camera with a 1.9 megapixel front-facing camera, along with a variety of camera modes including 'Drama Shot' (merging continuous shots of a moving object), 'Sound & Shot' (captures 9 seconds of sound and voice together as the picture is taken to capture moments), 'Rich tone,' 'Sports' and more.
• The device also packs various newly-introduced features for endless entertainment, including: S Travel: Provides trip information, local guides and resources and more; Story Album: Allows customers to create albums of daily events, keep special moments in one place using a timeline, geo-tag information and publish digital albums in hard copy.
Samsung GALAXY Mega 6.3 Product Specifications
Network: LTE100/50Mbps, HSPA+42/5.76
Display: 6.3-inch HD Super Clear LCD
Processor: 1.7GHz Dual Core AP
OS: Android 4.2 (Jelly Bean)
Camera: Main (Rear): 8 megapixel rear-facing camera
Sub (Front): 1.9 megapixel front-facing camera
Video: MPEG4, H.263, H.264, VC-1, VP8
Recording/ Playback : 1080p@30fps
Audio: MP3, OGG, AAC, AAC+, eAAC+, WMA, AMR-NB/WB, FLAC, PCM, MID, IMY
Memory: 8GB Internal Memory (microSD up to 64GB) + 1.5GB RAM
Dimension: 168.6 x 88.0 x 7.9 mm , 197g
Battery: Standard battery, Li-ion 3,200 mAh
Samsung GALAXY Mega 5.8 Product Specifications
Network: HSPA+21/5.76
Display: 5.8-inch QHD TFT
Processor: 1.4GHz Dual Core AP
OS: Android 4.2 (Jelly Bean)
Camera: Main (Rear): 8 megapixel rear-facing camera
Sub (Front): 2.0 megapixel front-facing camera
Video: MPEG4, H.263, H.264, VC-1, VP8
Recording/ Playback : 1080p@30fps
Audio: MP3, OGG, AAC, AAC+, eAAC+, WMA, AMR-NB/WB, FLAC, PCM, MID, IMY
Memory: 8GB Internal Memory (microSD up to 64GB) + 1.5GB RAM
Dimension: 162.5 x 81.5 x 8.9 mm, 182g
Battery: Standard battery, Li-ion 2,600 mAh