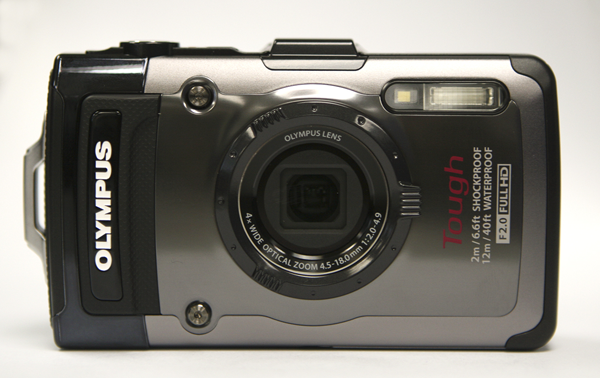 "When the going gets tough, the tough gets going"—so goes the popular phrase which the new Olympus Tough TG-1 compact digital camera seem to live up to.
The Olympus Tough TG-1 is the latest point-and-shoot camera from Olympus and is specifically designed to withstand extreme or rigorous conditions without compromising performance.
This toughie is shockproof up to 2 meters or 6.6 feet, crushproof up to 100 kg, waterproof up to 12 meters or approximately 40 feet and freeze proof to as low as -10°Celsius.
One notable feature of the Olympus Tough TG-1 is the high speed f2.0 aperture lens. This lens vastly improves and ensures high quality images, low noise in any given low lighting conditions. Two additional separately sold lenses are also available for this camera, the fisheye lens for extremely wide angle shots and the tele-converter lens for distant shots.
The focal length of the Olympus Tough TG-1 gives you the versatility to take beautiful landscapes or sceneries at 25 mm wide angle and can further zoom up to 100 mm allowing you to get closer to your subjects for a wonderful portrait or even capture action filled scenes.
This toughie is equipped with a 12 megapixel BSI CMOS sensor type, which provides clearer and sharper pictures. It is also equipped with a TruePic VI image processor which is typically used in some DSLR cameras. This is further complemented by the latest "iHS technology" that speeds up functionality from start-up to focussing and continuous shooting functions.
Another interesting feature of the Olympus Tough TG-1 is the A-GPS function, which gives the user the means to capture his / her travel adventure and thus, record location information of where exactly the images was taken. Users may also recreate the route they have taken during their travel using the information obtained from A-GPS feature.
The Olympus Tough TG-1 can also record High Definition videos with a resolution of 1080 pixels with MOV and H.264 or MPEG 4 formats. It is also equipped with a Multi-Motion Movie IS image stabilization feature which correct gradual camera shakes which frequently occurs when recording videos while walking.
The new Olympus Tough TG-1 compact digital camera is designed for camera enthusiast who loves the rugged adventure of the outdoors. It is now available in the Philippines with an introductory price of Php 19,995.