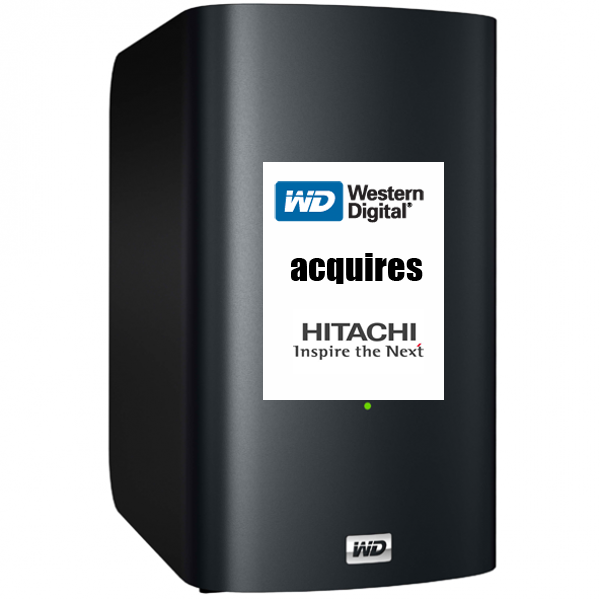 Storage solutions maker Western Digital Corp. has completed its acquisition of Hitachi Global Storage Technologies.
The acquisition became effective on March 8 for $3.9 billion in cash and 25 million shares of WDC common stock valued at approximately $0.9 billion.
Hitachi, Ltd. now owns approximately 10 percent of WDC shares outstanding, and it has the right to designate two individuals to the board of directors of WD.
The new WD will operate with WD Technologies (WD) and HGST as wholly owned subsidiaries. Aggregated revenues of the two companies in 2011 were $15 billion. As chief executive officer of WD, John Coyne heads up the new office of the CEO, with Steve Milligan as president, Tim Leyden as chief operating officer and Wolfgang Nickl as chief financial officer.
"The completion of this acquisition is a truly momentous event in the 42-year history of our company," said Coyne. "With ownership of two successful companies and the best talent available in the industry, we expect to accomplish great things as we build the new WD to be the world's leading storage solutions provider with the industry's deepest technology capability, broadest product portfolio and best-in-class execution. Similar to successful multi-brand models in other industries, the two subsidiaries will compete in the marketplace with separate brands and product lines while sharing common values of customer delight, value creation, consistent profitability and growth."
A recently updated HDD forecast by IDC predicts industry revenue growth at a compound annual growth rate of 8.6 percent per year from 2011 to 2016.
"The growth in demand for digital storage continues unabated driven by the expansion of digital content in consumer and commercial applications," said John Rydning, research vice president, hard disk drives & semiconductors, IDC. "Mobility, cloud infrastructure, social business, and big data analytics are stimulating demand for digital content in new formats and new market segments, creating the need for an increasingly diverse set of storage products and technology capabilities from storage solutions providers."
"With a significantly broadened customer base and expanded resources, the new WD is in a strong position to seize the growth opportunity in stored digital content," said Coyne. "We have acquired a strong presence in the traditional enterprise market, substantially increased our presence in the industry's fastest-growing segments-cloud and mobility-and improved our capability to address new market initiatives such as enterprise SSD, storage solutions for small business and low-profile HDDs and hybrid drives for Ultrabooks™. As a result, WD is better positioned than ever for success."