Storage solutions such as portable hard drives are also taking advantage of wireless technologies to enhance use of portable computing devices such as notebooks, tablets and smartphones.
Hard disk drive maker Seagate has recently launched GoFlex Satellite, which is the first battery-powered hard drive capable of wirelessly transmitting digital content such as video, music, or photo to iPad and Android run tablets or smartphones.
This function literally extends the storage capacity of any Wi-Fi enabled mobile device, which often feature low capacity solid state drives.
Apart from a rechargeable battery, GoFlex Satellite comes with 500 GB capacity, which is more than enough to carry an entire library of video, music, pictures and documents with you. Its Wi-Fi feature is already 802.11 b/ g/n standard and it can wirelessly stream digital content up to 150 feet.
But how do you make it work? First you need to sync the contents that you wish to wirelessly stream to your tablet or smartphone from your laptop by connecting the GoFlex Satellite to the laptop with a cable. From your Android device or iPad2, download the GoFlex Media app from the Android market or iTunes. Once installed and launched you can now see the contents of the storage. You can play movies, music, or browse through photographs just by clicking the widgets on GoFlex Media app.
Another feature of the GoFlex Media app is its ability to store directly and wirelessly to the GoFlex Satellite songs downloaded from the iTunes while you are doing the function on your iPad screen. It is also capable of providing hours of entertainment for up to three connections or tablets.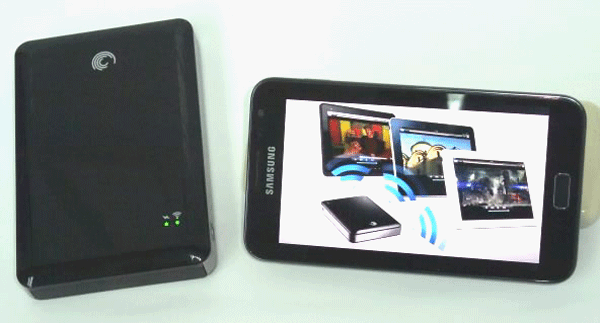 GoFlex Satellite, which retails for P9,888, boasts of stand-by battery life of up to 25 hours.