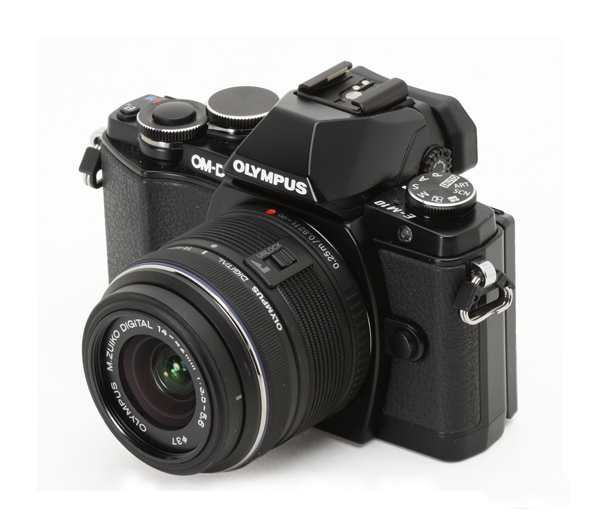 Olympus officially unveils its new OM-D E-M10 mirrorless interchangeable-lens camera that is more retro in looks, style and handling than previous OM-D models.
The new OM-D E-M10 features a luxuriously-textured, lightweight compact metal body and offers cutting-edge technology mostly found in the existing OM-D models.
This mirrorless interchangeable lens camera model is equipped with 16 megapixel Live MOS sensor similar to the high-end OM-D E-M5 model, which offers high-sensitivity performance for detail and color reproduction that exceeds the sensor size. The camera displays its greatest power in night scenes and dark indoor shooting locations.
The rich dynamic range of this sensor also makes smooth gradations possible as well as beautifully depicts high-contrast highlights and shadows.
ISO LOW (100 equivalent) mode expands the low sensitivity end. The bright, fast lens enables use of the widest aperture setting for beautiful defocusing effects.
This camera is also fitted with True Pic VII image processor, which is similar to the one found in the flagship model OM-D E-M1.
It delivers a high-resolution image which is obtained with the Olympus-original Fine Detail II image processing technology. With this processing technology, lens performance is maximized by optimizing optical properties of the attached lens, sharpness correction and magnification chromatic aberration, and false color reduction processing compatible with no low-pass filter.
It also offers Real Color Technology helps to faithfully reproduce specific colors that are traditionally difficult to reproduce, such as emerald green and yellow, for drawing out the full ability of a high-performance lens and high-sensitivity sensor.
This ultra-compact model is fitted with a large, bright, quick response, high-resolution Electronic View Finder (EVF) similar to the OM-D E-M5.
This viewfinder features a magnification rate of approximately 1.15 Xs and the viewfinder coverage is approximately 100%, and provides powerful support when photographing moving subjects with its OM-D series quick response.
The viewfinder is also equipped with Cat's Eye Control used on the flagship OM-D E-M1 EVF, providing a natural view in the viewfinder.
Powerful image stabilization makes accurate focusing possible, and when coupled with numerous features such as exposure compensation, the ability to check lighting and color balance effects in the EVF, it is now possible to shoot using the EVF to obtain the exact results you have in mind.
The new OM-D E-M10 gives you pro-style performance in a camera you can actually carry. Its thoughtful design centers on a solid, premium build that feels substantial in your hands, while its ergonomic shape and nimble control scheme allow you to focus in getting the perfect shot.


Olympus OM-D E-M10 key features:
1) Ultra-slim stylish body that satisfies the desire to hold the camera and shoot.
2) Traditional optical technology and advanced image processing technology that brings out the excellent image quality.
3) Large, bright and clearly visible, quick response electronic viewfinder.
4) 3-axis VCM in-body image stabilization mechanism brings out the very best in every lens.
5) 81-point FAST AF and 8 fps maximum high speed sequential shooting to capture the moment.
6) Built-in Wi-Fi expands possibilities for easy sharing and various remote functions for more enjoyable photos
7) Built-in high-performance flashes for 1/250 sec. synchronize even in daylight synchronize shooting.
8) High-resolution touch tilting LCD monitor for shooting at a various angles.
9) Live Composite lets anyone easily capture light trails when capturing shots of stars.
10) Photo & Movie Capture lets you capture high-quality still images without interrupting movie recording.
11) The ultimate iAUTO has advanced to automatically detect subject movement.
12) Olympus Art Filter and PHOTO STORY expand the realm of imaging expression.