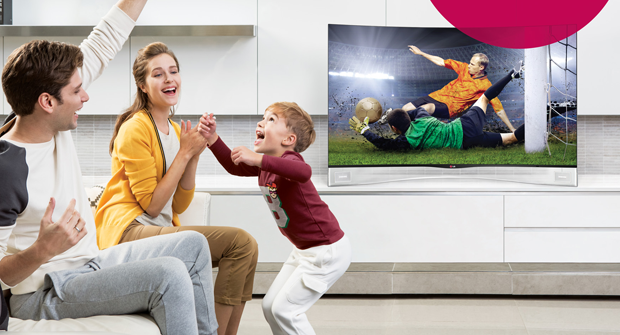 LG Electronics has announced the coming availability in the Philippines of the world's first Curved OLED TV, the 55-inch Curved OLED TV or "LG 55EA9800" model.
The Korean electronics giant, which pioneered the said technology, said its 55-inch Curved OLED TV is set to launch on first week of December and will carry an SRP of P499,990 (or half million pesos), which is understandably high since it's a new TV technology.
The curved display is a new development in TV technology, which has seen major overhaul inside and out since it became flat thin. As trends go, the curved display, which is also becoming apparent in the upcoming mobile phones, is the next TV technology evolution after 3D TV and ultra-high definition TV.
Apparently 3D TV technology, as far as reports go, has not really taken off with consumers. Major TV manufacturers haven't come out with new 3D TVs lately and, in fact, Toshiba, which made the first glassless 3D TV, has ditched the project entirely.
Curved display, in a sense, isn't really "new" technology. It's been used in cinemas to be able to focus more light towards the audience. It reduces optical distortions and fills a massive percentage of a viewer's field of view.
The introduction of the first Curved OLED TV signifies another major accomplishment for LG. The company also started the world's first 84-inch Ultra HD TV. It also introduced a 55-inch LG OLED (Organic Light Emitting Diode) TV.
LG further upped the ante with its 60-inch Curved OLED TV, a groundbreaking innovation which promises the immersive IMAX experience in the comfort of the viewer's home.


The new LG Curved OLED TV measures only at 4mm (approximately three credit cards).
Unlike LCD displays, the new curved OLED display made backlights unnecessary, reducing power consumption and distortions even at extreme angles.
The LG Curved OLED TV is only 16.3kg light and has a Carbon Fiber-Reinforced Plastic (CFRP) to add additional strength to the beautifully curved screen.
LG provides a wall mount (LG 55EA9800) specifically for the TV and includes the transparent film-type speakers in the crystal clear stand, providing high-quality sound without compromising the TV's seamless design.
To complete the balance of aesthetic beauty and comfort, the LG Curved OLED TV incorporates the company's industry-leading Cinema 3D technology with Smart TV capabilities.
To learn more about the LG Gallery and Curved OLED TVs, visit www.lg.com/ph, www.lgblog.com.ph, or www.LGnewsroom.com; like LG's official Facebook page "LG Philippines"; or follow @LGPhilippines on Twitter or Instagram.