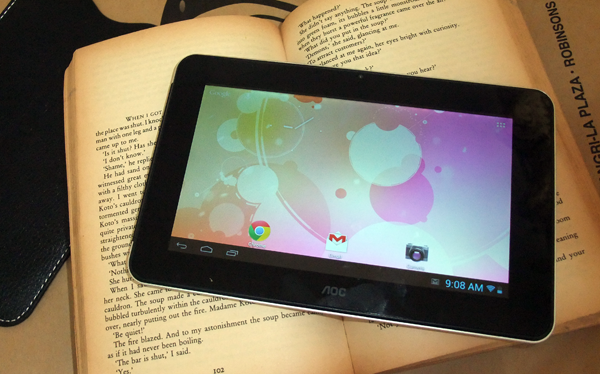 Popular LCD monitor brand AOC has started venturing into the lucrative tablet business with the recent introduction of AOC MWO831 and AOC MW0731–7-inch and 8-inch sized tablets running on the latest Android Jellybean.
Priced at only P5999, the 7 inch AOC MW0731 is a pretty thin tablet with solid metal chassis build and already powered by a dual core ARM 1.4 Ghz processor, in addition to a dedicated graphics component.


The 8 inch AOC MW0831, on the other hand, is priced relatively higher at P8999, but already features an IPS display and higher screen resolution of 1024 x 868.
It is also powered by a dual core 1.4 Ghz ARM processor and features a 2 megapixel rear camera. Like the AOC MW031, it is also very thin and has a solid metal build.

According to Kan Yeung, sales director at AOC Asia Pacific region, the Philippines was the first country in the region to launch the new tablets. AOC as a brand of monitors has been in the country for 15 years. Currently, it has captured 30 percent of all PC monitor sales.
Yeung has high hopes Filipino consumers will also welcome the AOC branded tablets targeting the budget conscious buyers.
He said in Brazil, the AOC brand is very popular and acceptance is high. In fact, the AOC sponsored basketball team, which also carries the AOC name is popular in that country. The AOC tablets when introduced there last year enjoyed huge sales. An average of 300,000 AOC tablets in a month are sold in Brazil.
For the Phlippine market, AOC will eventually introduce 3G capable tablets and will focus more on the 8 inch tablet, which Yeung predicted will be the more predominant tablet size preferred by consumers. He based his prediction on an IDC study of saleable tablets.
"We offer tablets that feature good specs and make compared with other affordable brand of tablets out there," he said distinguishing the AOC tablets from the rest that also share the same price range.
More photos of the AOC MW0731