If there's any indication how the consumer technology is more moving towards mobility, just look at the devices introduced at the IFA tradeshow in Berlin. For example, Taiwan tech giant Asus, which still focuses on PCs and PC parts business, announced more tablets in its stable of new products. Below are some of them, which you might want to anticipate to be introduced here locally, in time for Christmas shopping.


Asus next-generation Fonepad 7
Asus Fonepad 7 is an updated version of the 7-inch Android device with full voice telephony for people who want smartphone features with a tablet-size screen.
It features a new non-slip finish and faster HSPA+ 3G with up to 42Mbit/s download speeds.
It is powered by an Intel Atom Z2560 processor with Hyper-Threading technology for seamless multi-tasking performance with Android 4.2.
The device's 7-inch display features a crisp 1280 x 800 resolution with IPS (In-Plane Switching) technology for wide viewing angles and excellent daylight visibility, while its dual-front speakers with Asus SonicMaster audio technology ensure high-quality sound.

Asus Fonepad 7 is available with either 8GB, 16GB or 32GB onboard storage and a microSDHC card slot, conveniently located on the side of the case. 5GB of lifetime Asus WebStorage is also included and Asus WebStorage Office also provides a full Microsoft Office experience on the move.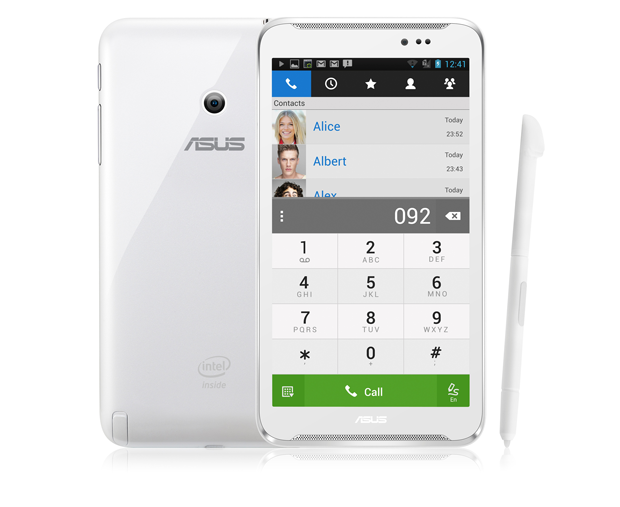 Fonepad Note 6 with 6-inch Full HD Display
Asus Fonepad Note 6 is a sleek 6-inch Android tablet with a razor-sharp Full HD display that offers both multi-touch and stylus input, and built-in HSPA+ 3G for telephone calls and mobile internet.
The phablet measures just 10.3mm thick and with a low 210g weight. It packs a brilliant 6-inch Super IPS+ display with a stunning 1920 x 1080 Full HD resolution.
The device's super IPS+ (In-Plane Switching) display technology ensures a bright, vibrant image with wide viewing angles and great daylight visibility, while ASUS SonicMaster audio technology gives fantastic sound quality with the dual front speakers.
Asus Fonepad Note 6 (ME560CG) is powered by the new Intel Atom Z2580 processor with Hyper-Threading technology for an outstanding combination of multi-tasking performance and energy efficiency, with up to 23 hours 3G talk-time and 6.5 hours of video playback.
The Android 4.2 run Asus Fonepad Note 6 also features a stylus for handwritten input with exclusive Asus apps. Instant Page launches automatically when the stylus is ejected from its silo to offer immediate note-taking, no matter which other app is in use, while Smart Crop makes it easy to save an image in any app just by circling the desired area. 'Smart Peek' previews give the same kind of quick access to app content that PC users have long enjoyed, too, with just a tap of the stylus.
Asus Fonepad Note 6 also features a host of other exclusive refinements throughout Android 4.2. Apps include tight integration of social network support and an improved native email app has a new threaded conversation view.
A new camera app also unlocks the power of the rear 8-megapixel and front 1.2-megapixel cameras with real-time previews of image effects, and easy adjustment of white balance and exposure.
Fonepad Note 6 is available in black or white, with 16GB or 32GB onboard storage. Both models also feature a microSDHC card slot for adding more.

Transformer Book Trio 'Three-in-One' Ultraportable

The Transformer Book Trio is new breed of ultraportable device that features a two-part dockable design that can be used by one person as a laptop, or by two people as a separate tablet and desktop PC.
With the ability to switch between Windows 8 and Android at the press of a button, Transformer Book Trio offers unmatched three-in-one flexibility for users who want the best of all mobile worlds.
Asus Transformer Book Trio features a sleek and durable metallic design, and is powered by a 4th generation Intel Core processor.
When it's time for entertainment to take over from productivity, the 11.6-inch display detaches from the 'PC Station' keyboard dock for use as a multi-touch Android tablet with its own Intel Atom dual-core processor and up to 64GB of solid-state storage.
With the display docked, Transformer Book Trio can switch instantly between Windows 8 and Android 4.2 by pressing the dedicated 'Trio' key on the keyboard, with data shared between the two operating system's via the tablet's storage.
Unlike other dockable ultraportables, Transformer Book Trio's PC Station isn't dead weight when the tablet display is detached.
With an external display connected via Mini DisplayPort or Micro-HDMI, the PC Station can then be used as a self-contained desktop PC with Windows 8, which means Transformer Book Trio can be used by two people, in two different places, at the same time.