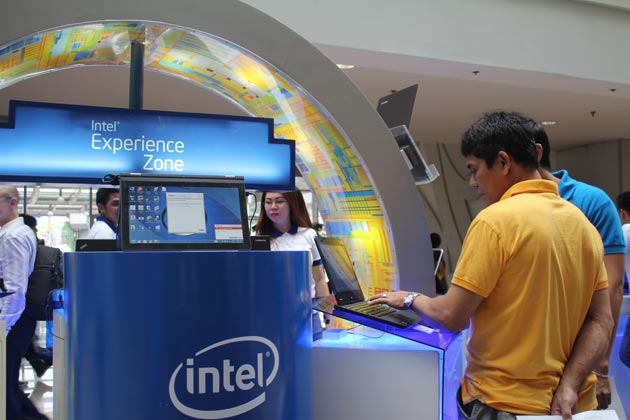 There's still time for you to catch the Intel Experience Zone, which will run for three weeks at SM Megamall (upper ground floor Building A until October 9) and Festival Mall in Filinvest Alabang (until October 10).
As its name suggests, Intel Experience Zone is an area exhibit featuring the latest hardware and mobile devices in the market running on the latest Intel processor.
At the Intel Experience Zone, consumers will be able to take a closer look and even try the latest computing innovations from IT brands Acer, Asus, Dell, HP, Lenovo, Polaroid, Samsung, Sony and Toshiba.
Consumers are allowed access to a range of products that include ultrabooks, two-in-one or ultrabooks that transforms into tablet or features keyboard docks, smartphones, and All in One PCs or AIOs with touch user interface.
The Intel Experience Zone is just a part of the campaign Intel launched in the country to make the brand known to Filipino consumers. It particularly wants to relay the message that Intel processors aren't only powering desktop PCs or laptops, but tablets and smartphones that consumers now enjoy and use.
Since it introduced the ultrabook design for PCs in 2011, Intel has been focusing on mobile devices. And recently, with the trend of "touch" mobile devices spreading rapidly versus desktop PCs, the Sta. Clara California-based company is also venturing into this lucrative space.
Intel is positioning the low-thermal Atom processor, which it introduced originally for netbook design, to power tablets and smartphones.
Its latest iteration the Atom Medfiled and Clover Trail processors can be found in current tablets and smartphones, particularly Lenovo's K900, Polaroid Elixir, and Asus Fonepad. These devices boast of long battery life and performance too–even outperforming tablets powered by ARM processors.
Intel Philippines country manager Chris Calum said the local market in the coming months would soon be populated with Intel-powered tablets as Intel has been in serious talks with local tablet brands, which will create these soon-to-come Intel tablets.
With the partnerships, expect the prices of Intel-run tablets and smartphones to further go down. For example, the Polaroid Elixir 7 inch tablet retails for only a little over P6,000.
Calum said this will eventually allow for the greater masses to own tablets that they can use at work and in school.
Tablets and smartphones built on Intel Atom processors are designed to give users who are always on-the-go responsive computing that helps them get things done without cutting into their travel experience.
"Intel has finally come full circle, having strengthened our presence in the computing space and pioneered many of the form factors we see here today," said Randy Kanapi, marketing manager Intel Philippines.
He added "the Intel Experience Zone is a platform for us not only to bring our innovations closer to consumers, but also to show how these unique form factors can heighten the experiences of different user profiles and personalities. Through Intel Experience Zone, we are also able to show them the exponential possibilities of what they can do using computing technology."
Here's one of the cool things you can do at the Intel Experience Zone: