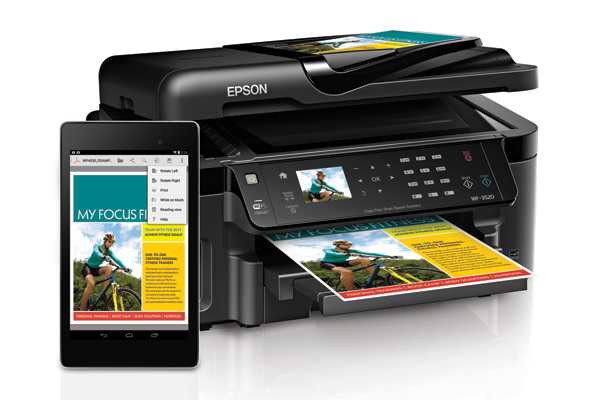 Epson has announced support for Android printing, the native printing platform introduced in Android KitKat (version 4.4). The list of Epson printers that support Android Kitkat native printing is printed below.
The feature allows mobile users to print documents, photos, web pages, and emails, without the need for a dedicated printing app.
Over 100 new and legacy Epson-Connect enabled printers and all-in-ones now offer built-in printing support for the latest Android run smartphones and tablets.
Apart from no longer requiring a specific app for printing, Android printing feature allows users to discover available printers, change paper sizes, choose specific pages to print, and print almost any kind of document, image, or file.
To be able to enjoy the Android printing on an Epson printer, one has to download first the Epson Print Enabler from the Google Play.
The following Epson printers support the Epson Print Enabler app:
| | | |
| --- | --- | --- |
| Inkjet Printer | Laser Printer | Ink Tank System Printer |
| Epson Expression Home XP-202 | Epson AcuLaser™ M2310DN | Epson L355 |
| Epson Expression Home XP-402 | Epson AcuLaser™ M2410DN | Epson L550 |
| Epson Expression ME-301 | Epson AcuLaser™ M4000N | Epson L555 |
| Epson Stylus Photo TX720WD | Epson AcuLaser™ M7000N | Epson M200 |
| Epson K200 | Epson WorkForce AL-M300DN | |
| Epson K300 | Epson WorkForce AL-M400DN | |
| Epson WorkForce WF-2528 | Epson AcuLaser™ C500DN | |
| Epson WorkForce WF-2538 | Epson AcuLaser™ C9300N | |
| Epson WorkForce WF-2548 | | |
| Epson WorkForce WF-3521 | | |
| Epson WorkForce WF-7511 | | |
| Epson WorkForce Pro WP-4011 | | |
| Epson WorkForce Pro WP-4091 | | |
| Epson WorkForce Pro WP-4511 | | |
| Epson WorkForce Pro WP-4211 | | |
| Epson Stylus Photo R2000 | | |
| Epson Stylus Photo R3000 | | |