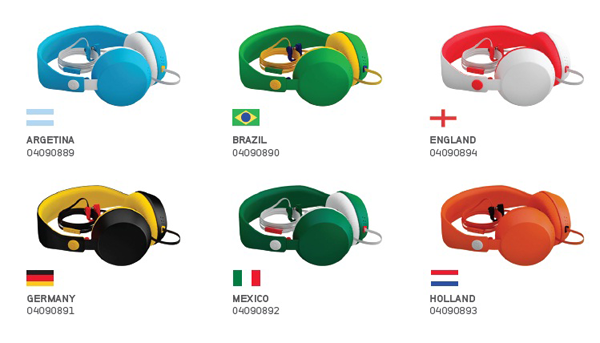 Coloud Headphones Football Edition features design and colors of the game that's currently earning a lot of attention among Filipino sports lovers and enthusiasts.
The release of the new Coloud Headphones coincides with the start of FIFA World Cup 2014, which takes place in Brazil and will start today with a match between Brazil and Croatia.
The limited Football Edition of The Boom Coloud Headphones feature SRP of Php1,495 and available at Astrovision Mall of Asia, Astrovision Festival Mall, AstrovisionGlorietta 2, Astrovision Greenbelt 5, AstroplusSM Aura, Mobile 1 Rockwell, Beyond the BoxRockwell, Beyond the BoxCentris, Beyond the BoxErmita, Beyond the BoxGalleria, Beyond the BoxResorts World, Beyond the BoxVmall, Digital WalkerAlabang, Digital WalkerEaswood, Digital WalkerShangrila, Digital WalkerMagnolia, Digital Walker Mall of Asia, Digital Walker Trinoma, Digital WalkerVmall, Digital Walker Greenbelt 5, Digital HubMarket Market, Digital HubRobinson Pioneer, Digital HubTheatre Mall.
The Boom headphones will be released in colors that depict the flags of football crazed countries such as Argentina (Blue/ White), Mexico (Green/ White/ Red), Holland (Orange), Germany (Black/Yellow/Red), Brazil (Green/Yellow), and England (White/Red).
The Coloud Headphones Boom edition is a rough and ready headphone designed to deliver your daily dose of music. Outside noise stays out thanks to the Boom's closed construction, and its minimal parts mean less weight on your head. The Boom's sturdy frame is crafted to withstand the pressures of everyday listening and the Zound Lasso, together with the flat cable, protects against tangles during transport.
For more information regarding the sales and distribution of Coloud products, visit http://www.facebook.com/digitstrading or follow them at https://twitter.com/digitstrading.