Global tech giant Lenovo offers the next big thing in connectivity and entertainment with the Lenovo PHAB.
Combining the best features of phone and a tablet, the Lenovo PHAB ushered in a new era of phablets in a big way since it was introduced. It offers a better user experience, and is certainly the new "it" thing for a variety of reasons:
The best of both worlds
Mobile gadgets have long ago transcended beyond allowing users to just text, call, and play. In this day and age, smartphones offer great connectivity and entertainment features, while tablets answer users' need for long battery life, big screens and quality displays. Yet, carrying both a smartphone and a tablet may not be very practical especially for people who travel a lot. Watching videos or playing games during long daily commutes to work are possible while using a smartphone, but the larger screen size of a tablet always provides a different, and often better experience. However, using a full size tablet to make calls is cumbersome and in some cases it may seem rather ridiculous.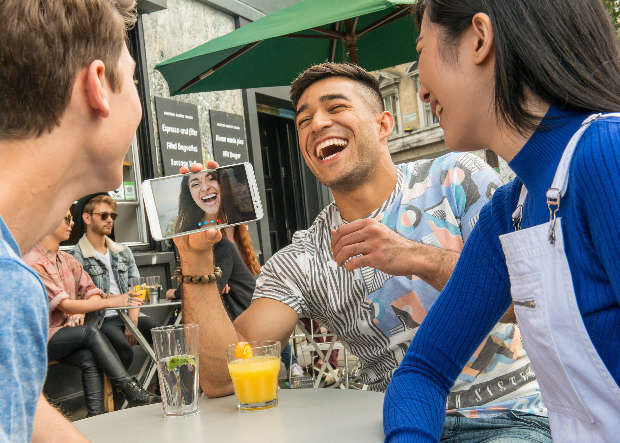 PHABulously matches your style
Those looking for ideal size for a smartphone and a tablet, the Lenovo PHAB hits the sweet spot in the size department.
Featuring a vibrant 6.98-inch HD screen with an IPS 5-point multi-touch functionality, the PHAB is larger than a smartphone to let users enjoy watching their favorite TV series, but smaller than full size tablets to facilitate easy one-hand handling. It's the perfect fit-in-your-pocket device that provides the ultimate multimedia experience on-the-go.
The tech world, much similar to the fashion industry, is ever changing but one thing remains true – the bold always stands out. The Lenovo PHAB offers a unique design that is beautifully crafted for a premium feel. It is crafted with a unibody design with round edges and polished buttons, and it comes in four different colors to match different personalities and preferences: Tuxedo Black, Polar White, Aqua Blue, and Cherry Red.
Weighing only 250 grams and measuring just 8.9mm thin, the Lenovo PHAB makes it easy for go-everywhere trendsetters to operate the device with one hand. Users can easily activate the Micro Screen mode by tracing a "C" anywhere on the screen. That is just one of many functions and shortcuts added in the Lenovo PHAB to let users conveniently access their desired apps or return to the home screen as needed.
Work and play in one device
The Lenovo PHAB runs the latest version of Android (Lollipop v5.1) and is powered by 1.2 GHz Qualcomm Snapdragon 410 quad-core processor – a true game changer combo! The powerful processor lets users open multiple apps smoothly, especially when trying to get some work done. Plus, with Lenovo's built-in apps such as SHAREit and SYNCit, using the Lenovo PHAB is easy-peasy. At the same time, its powerful processor can run graphic-heavy games fast and steady.
What's also creating buzz for the Lenovo PHAB is its enhanced audio features. A 3mic array solution and dedicated voice processor with noise cancellation feature along with an excellent on-speaker sound ensure a clean voice input for making and receiving calls. Its Dolby Atmos Sound with Smart Amplifier gives more volume power when streaming videos and playing games.


Battery life is everything
With more complex functions and a higher level processor, there's bound to be bigger power requirements. But with Lenovo PHAB's 4250 mAh battery, users don't have to worry about running out of juice. It provides an estimated stand-by time of 20 days. Additionally, Lenovo has developed a built-in technology that limits the internal temperature of the device, helping to conserve its power for a longer battery lifespan.
Bang for the buck
Money-conscious tech aficionados will appreciate that the revolutionary Lenovo PHAB is quite affordable. In fact, buying it feels like purchasing two devices for the price of one. For only Php 9,499, users can pick up the Lenovo PHAB at any Lenovo concept store nationwide.