Dell Latitude 10 review:
Dell Latitude 10 Windows 8 tablet can be considered a performance tablet compared to tablets running on Android or iOS. Despite the live tiles interface and multi-touch UI, it still offers total Windows environment that allows you to link PC legacy peripherals such as a keyboard, mouse, USB storage, and even an external optical drive. They all work perfectly well with this tablet powered by the latest Atom processor from Intel.
The new Dell Latitude 10 Windows 8 tablet has allowed me to do the amount of work I usually do with my PC and laptop, minus the physical bulk of these devices. Added to this convenience is that I can do these process-intensive work on a piece of device roughly the size and weight of an iPad.
I downloaded and installed a number of Windows software that I use for my work and they worked perfectly fine. I did a lot of image and photo editing, including batch resizing of photos and change of file names, as well zipping files or unzipping downloads and all procedures done impressively by this tablet.
The Dell Latitude 10 is a Windows PC transformed into tablet and the transformation allowed comfort of use, making me work in the familiar comfort zone of a Windows environment, without figuring out alternative app for so and so usage, or syncing files or converting file extensions or names in batches.
Using this transformed PC, I am reminded that we are nearing the post PC era, the beginning and proliferation of use of gadgets and devices that are intuitive, responding to touch gestures or voice commands. Do we need to go back to the PC era with so many peripherals attached to one device?
Tablets as a form of computing device have been developed precisely for the very reason to wean people away from bulky PCs and provide them freedom to do their work on-the-go. You want your files and photos, download or get them from a cloud service and even use a cloud service to edit them, which is precisely what the iPad and the Android run tablets and smartphones are encouraging.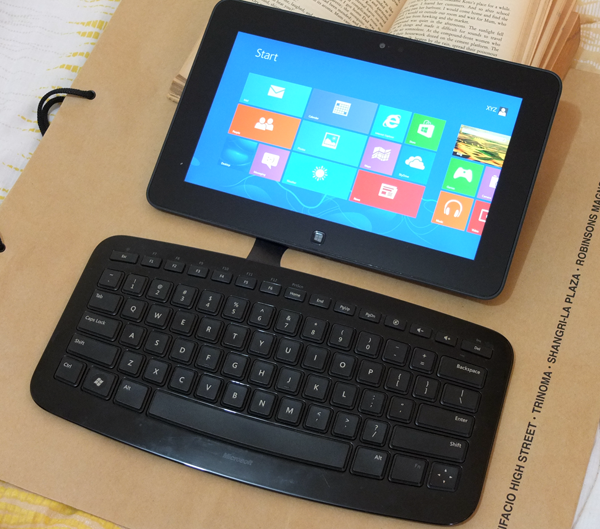 But there are still millions of PC users that want a tablet that will still allow them to use it like a real PC that can provide performance, power and speed–even when attached to several physical peripherals. Habits die hard and people don't want change to happen fast, since deep inside every PC user is the desire that familiar devices and peripherals and applications to work perfectly with the tablet.
The PC was developed as a powerful machine to produce content. Tablets, on the other hand,was developed to consume content and keep people hooked on the cloud or the services it has spawned.
The Windows Tablet, like the Dell Latitude 10, is the marriage of both. It brings the fun of navigating a touch UI through active tiles (as opposed to widgets of iPad and Android) and combines this with the power of a real PC and the full functionality of a Windows environment.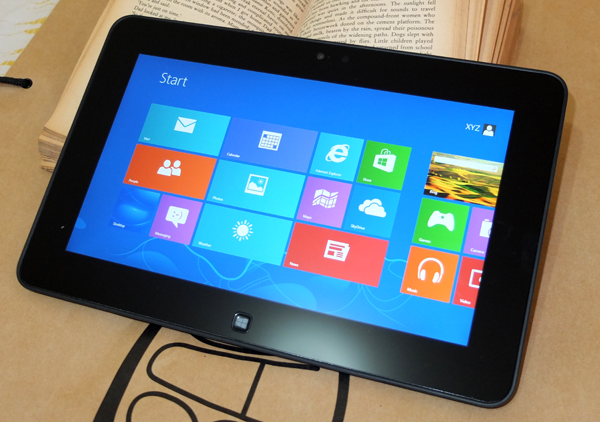 Powering the Dell Latitude 10 is an Intel Atom CPU Z2760, which belongs to the current Clover Trail family. It is a dual core system on chip (SOC) clocked at 1.8 Ghz and provides the tablet with 10 plus hours of battery life. Standby time for the device is at three weeks. Intel has seriously stepped up its game by improving not only the performance of the Atom processor but the battery life itself.
I also appreciate the fact that the Dell Latitude 10 already comes preinstalled with a Windows 8 Pro, which provides more flexibility, such as direct software installation through web download or CD installer rather than from a strict Windows store only, which is the main purchase deterrent for the Windows 8 RT version found in a number of Windows tablets.
Appearance and built, the Dell Latitude 10 is a business tablet measuring only 10.5 mm thin and weighing .65 kg. It's an all-black device with smooth velvety feel of the chassis, which by the way, is reinforced with magnesium alloy frame. The 10.1 display is capacitive multi touch HD display made strong with Corning Gorilla Glass and can be used for note taking function using an optional Wacom active stylus.


A PC notebook legacy is the inclusion of a detachable battery (through a covered opening at the back) which means the device can be easily accessed for repairs.
Beside a relatively bigger 60 GB solid state drive storage, it has all the ports you want in a PC device–mini HDMI, USB, RJ45 jack, SD card slot (to expand the storage). It features dual cameras, front facing web cam and rear camera. It's got WiFi, Bluetooth, dual array microphone and some models with mobile broadband.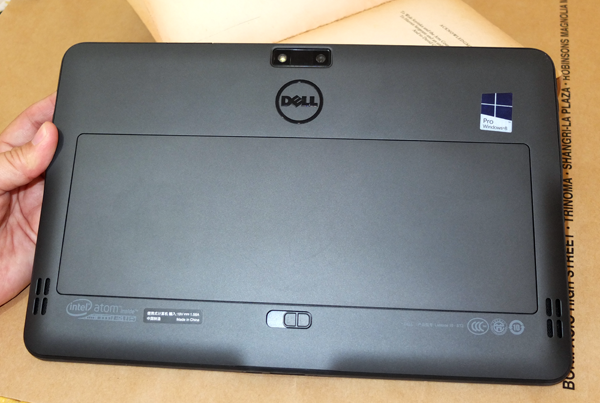 Some comforts I enjoyed using this tablet: a USB mouse works with the right and left clicks taking me to the Windows functions I want; use of a full size external wireless keyboard; access to different storages attached to the tablet via a USB port hub/multiplier; batch process like photo editing, renaming, and resizing; and use of an external DVD writer to burn CDs, among others.
I also noticed the incorporation of a reset option, back to factory setting, just like in Android device–if ever the tablet would be passed on to another user. In fact, there is a section or interface devoted to a lot of personalization and customization.


Another advantage I've noticed is the dedicated physical button beside the power button that provides you the option to disable the rotating screen, which can be annoying sometimes.
The tile interface of the Dell Latitude 10 offers ease of use, swiping and touching the screen is similar to using a touch smartphone, but the Windows 8 Pro still managed to provide the older platform familiar with users with the incorporation of the desktop tile. This hub takes the user to the familiar Windows OS, minus the familiar Start interface. And making use of a mouse will almost totally bring the experience of the old Windows.
Using the Dell Latitude 10 is like never leaving your work PC in the office or at home, even if you are in a coffee shop enjoying a cup of coffee while cramming for your work deadline.