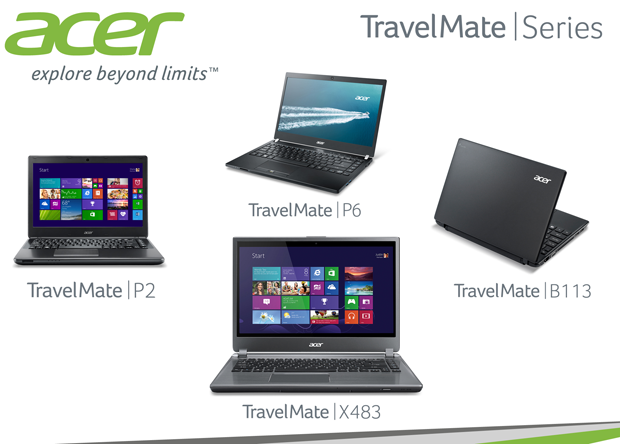 Acer Philippines has announced a new lineup of Acer TravelMate notebooks, which include TravelMate P6, the TravelMate P2, the TravelMate X, and the TravelMate B.
The updated TravelMate notebooks are designed to significantly boost productivity and meet the evolving technology demands of all types of business users.
Each comes with next-generation Intel© Core™ processors, high-performance graphics, state-of-the-art security features, and Acer's trademark design innovations.
Acer TravelMate P6, power and elegance in a notebook
Acer TravelMate P6 series is for corporate users looking for robust, secure, and powerful system.
Equipped with the fast and fluid Windows 8 Pro, 4th-generation Intel© Core™ i7/i5/i3 processors, NVIDIA GeForce/ Intel HD Graphics, up to 4 GB of DDR3 memory, and a stunning Acer ComfyView LED-backlit HD display, the TravelMate P6 offers reliable, rock-solid performance perfect for everyday tasks as well as data-intensive apps.
As a business notebook, it features an all-purpose data hub with lightning-fast connectivity and advanced extendibility.
Besides having built-in Bluetooth, LAN, Acer InviLink Nplify 802.11 a/b/g/n Wi-Fi, and Acer SignalUp wireless technology, the notebook also includes USB and HDMI ports, as well as support for ExpressCard plug-in hardware like FireWire 800, PCI Express adapters, external drives, and more.
To keep users on top of every aspect of their work, the Acer TravelMate P6 Series notebook also connects easily to the Acer ProDock (optional), a compact docking station that features a range of advanced I/O ports and enables users to simultaneously connect up to three external displays.
A heavy-duty machine with an elegant carbon fiber cover and aluminum-magnesium alloy frame, the TravelMate P6 provides unprecedented levels of strength, durability, and security.
It's other notable features include Acer DustDefender and Acer Disk Anti-Shock protection technology, Acer ProShield Security Manager, Acer Backup Manager, Intel Anti-Theft technology, and a built-in fingerprint reader all work together to ensure multi-level data security.
Acer TravelMate X Series, a revolutionary touchscreen Windows 8 hybrid
The Acer TravelMate X Series is a an 11.6-inch hybrid. It is both a notebook and tablet combined.
It is powered by the energy-smart Intel Core i5 processor and runs on the beautiful Windows 8 environment (with dual display support).
It is protected by Intel Anti-Theft technology and the Acer ProShield security solution.
This ultra-thin touchscreen notebook also features a detachable keyboard cover, ample data ports for extension, and a vibrant touchscreen display that integrates the intuitive Acer AccuFinger technology, which is designed to provide high levels of touch accuracy, precision, and control.
Whatever the task, the TravelMate X is up to it — springing to life at a moment's notice thanks to the Acer On and Instant Connect technologies, and ensuring that users get work done ASAP.
Acer TravelMate P2 Series: an efficient, reliable, and eco-friendly performer
Available in 14-inch, 15.6-inch, and 17.3-inch models, the TravelMate P2 Series notebook delivers fast, efficient, and reliable computing in the versatile Windows 8 Pro environment. Packing 3rd-generation Intel Core processors with powerful NVIDIA GeForce/ Intel HD Graphics (4000/3000) and up to 8 GB of DDR3 system memory, it's designed to make quick work of the most demanding business tasks.
An Energy Star 5.0 certified product, the eco-friendly TravelMate P2 Series notebook delivers high-speed access to important information — anytime, anywhere. It features the Acer InviLink Nplify 802.11 a/b/g/n Wi-Fi wireless technology, ultrafast Bluetooth and LAN connectivity, three USB ports, an HDMI port, and a Multi-in-1 card reader. The notebook also comes with state-of-the-art data security and protection solutions, including Acer ProShield Security Manager (for keeping critical files safe), Acer Backup Manager (for performing automatic file backup), and Acer Recovery Manager (for recovering unsaved work).
Acer TravelMate B Series: a slender yet robust everyday notebook
The TravelMate B Series is an everyday notebook designed for enhanced productivity, learning, and creation. It packs the power and speed of third-generation Intel Core i-family processors, Intel HD Graphics (4000/3000), and up to 4 GB of DDR3 memory, while running fluidly on Microsoft's beautiful Windows Pro 8 operating system.
It includes USB, VGA, and HDMI ports for fast and easy data management. To guarantee enhanced levels of wireless freedom, the TravelMate B features Acer InviLink Nplify 802.11 a/b/g/n Wi-Fi, Acer SignalUp, Bluetooth, and LAN connectivity — as well as an Acer Crystal Eye HD webcam and the Acer Video Conference Manager for a richer conferencing experience. The built-in Acer ProShield security solution, Office Manager, Backup Manager, and Recovery Manager, meanwhile, combine to keep critical data safe and protected.