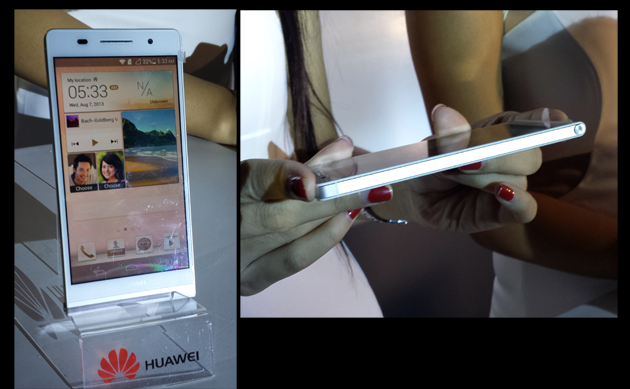 Huawei Ascend P6 is the latest smartphone from Chinese global brand Huawei, which is more known in the Philippines as network and communications technology provider. Think of 3G or 4G networks and pocket wireless routers and you get the idea.
Huawei Ascend P6 is the "world's slimmest smartphone" measuring at only 6.18mm and weighs just about 120g.
The smartphone features a 1.5GHz quad-core processor and a sleek metallic body. It also features a 4.7-inch high definition In-cell display, industry-leading 5MP front-facing camera, apart from an 8MP BSI rear camera, and Huawei's own user interface (UI) running on top of the latest Android Jellybean OS 4.2.2.
By integrating components of the display into a single layer display, in cell display technology allows for mobile devices to be thinner and keep a low weight even when the display increases in size.
It was only last year that Huawei focused its attention on building a smartphone brand. It considers itself an expert in smartphone technology as the company ranks third in the world producing mobile broadband and handset for other brands.
"The HUAWEI Ascend P6 is a star among smartphones with its industry-leading design, high-quality camera, and intuitive user interface, Huawei's proprietary Emotion UI," said Johnson Ma, Country Manager of Huawei Device Philippines.
"Building on the success of our Ascend P series of fashion smartphones, the HUAWEI Ascend P6 provides unsurpassed technology and a design that is simply stunning."
The Huawei Ascend P6 is now available at PhP18,990 suggested retail price. Consumers may also avail of Huawei Ascend P6 at Globe Best-Ever MySuperPlan for as low as P999 monthly at Plan 499 with P500 monthly cash out for a 24-month contract period or at Plan 999 with P200 monthly cashout also for a 24-month contract period.

Notable features of the Huawei Ascend P6 apart from being so slim:
• 2000mAh battery plus battery optimization and power savings features render the phone with improved battery performance by more than 30 percent compared with smartphone batteries of equal size.
• "MagicTouch" feature enhances responsiveness of the screen even when wearing gloves.
• Its 5MP front-facing camera and auto facial-enhancing capabilities produce great looking selfies.
• Its 8MP rear-facing BSI camera can go as low as F2.0 aperture, which is the camera opening you need for low light condition.
• In addition, its 4cm macro view also enables 1080P full HD video recording and playback.
• AirSharing capability
For more information, visit Huawei Device online: http://www.huaweidevice.com.ph