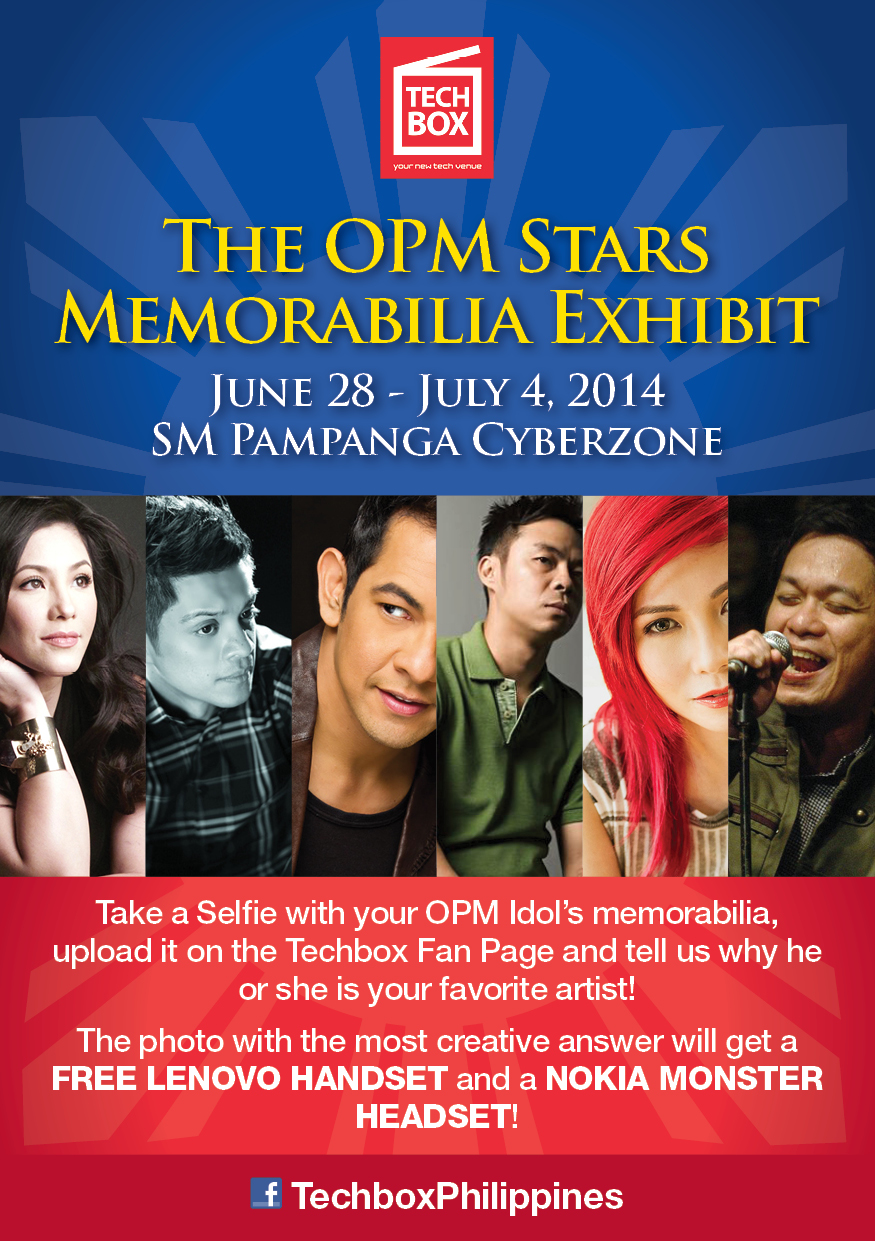 Gadget retail chain Techbox Philippines now sells MicroSD cards preloaded with OPM songs and cost only P400 (for a single 4GB MicroSD card).
The new offer is part of Techbox Philippines advocacy toward helping grow Original Pilipino Music in the country.
"We are very excited about this initiative as it results to so many good things without requiring any extra effort from our customers," according to Angela Gutierrez, Business Unit Head for Techbox Philippines.
"Not only does this project help prevent music piracy, it also helps protect the gadgets of our customers from security vulnerabilities that users can get from downloading from unreliable sources," added Angela.
Techbox Philippines currently offers three variants of their OPM-preloaded MicroSD. The 'Happy' card includes hits such as "Biglang Liko" by Ron Henley feat. Pow Chavez, "Hip-Notize" by Solenn feat. Klumcee, "Tao Lang" by Loonie feat. Quest, "Otomatic" by Pedicab, "Paakyat Ka Pa Lang Pababa Na Ako" by The Oktaves, "Lord Patawad" by Bassilyo, "Picture Picture" by Tanya Markova, "Kahit Maputi Na Ang Buhok Ko" by Richard Poon, "Die Just A Little" by Side A, "It Wasn't Me" by Sitti, "Leaving On A Jetplane" by Mitoy Yonting, "Elesi" by Paolo Onesa, and a music video of "Diva" by Solenn feat. Ron Henley.
The 'The Voice' card features crowd favorites like "Bulag" by Mitoy Yonting, "Time After Time" by Radha, "Skyfall" by Paolo Onesa, "Every Breath You Take" by Maki Ricafort, "I Believe I can Fly" by Janice Javier, "Balita" by Daryl Shy, "What About Love" by Morissette Amon, "Chasing Pavements" by Myk Perez, "Losing My Religion" by Lee Grane Maranan, "Lately" by Thor Dulay, "The Climb" by Klarisse De Guzman, "Superstar" by Penelope Matanguihan, and a music video of "Lucky In Love" by Paolo Onesa.
The 'Relaxing' card contains soothing tunes such as "Roar" by Sabrina, "Someday We'll Know" by Sitti, "Easy" by Myk Perez, "12:51" by Krissy & Ericka, "Royals" by Sabrina, "Gupit" by Toto Sorioso, "Tila" by Side A, "Picture Picture (acoustic)" by Tanya Markova, "Someday" by Nyoy Volante, "(They Long To Be) Close To You" by Richard Poon, "I Don't Wanna Wait" by December Avenue, "IMY (acoustic)" by Iktus, and a music video of "Almost Is Never Enough" by Sabrina feat. Myk Perez.
The OPM-preloaded MicroSD card was launched on June 28 at SM Pampanga Cyberzone through an OPM Stars Memorabilia Exhibit. The exhibit will be open to the public from the launch date to July 4, 2014.
As an added incentive, customers who will buy any Lenovo handset and the OPM-preloaded MicroSD card from Techbox will get a chance to win exclusive memorabilia from OPM giants by entering Techbox's raffle.
Prizes include a gown from Regine Velasquez, jacket from Gary Valenciano, ukulele from Rivermaya, signed hat, shirt and photo from Gloc9, signed shirt from Yeng Constantino, signed polo shirt from Christian Bautista, signed long sleeves from Erik Santos, signed running shirt and watch from Karylle, black leather jacket from Bamboo, CD, cap and shirt from Abra, music notes composition from Ryan Cayabyab, and other exciting items from Urban Dub, Pupil, Sandwich, Imago, and The Voice finalists. Techbox Philippines will have the raffle draw on August 7, 2014.