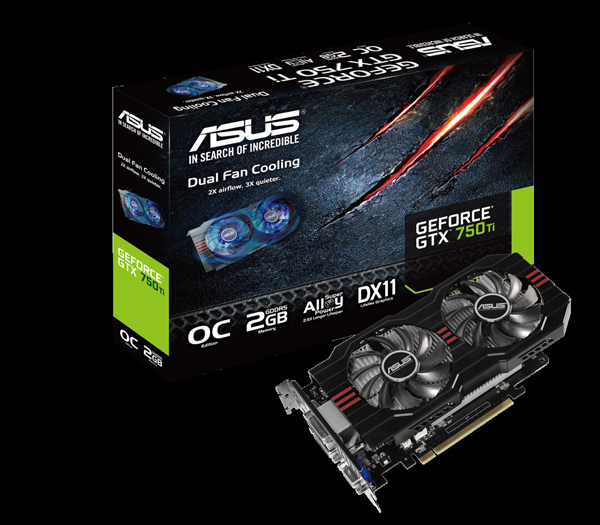 Gaming enthusiasts have something to cheer about and it would likely encourage them to upgrade their gaming PCs. ASUS has announced the availability of GTX 750 Ti and GTX 750, which are two new high-value 3D-gaming graphics cards equipped respectively with the powerful GeForce GTX 750 Ti and GTX 750 graphics-processing units (GPUs). Both are overclocked for performance reaching up to 52MHz faster than reference.
The new graphics cards benefit from exclusive ASUS technologies and tools that include dust-proof fans for improved card lifespan and Super Alloy Power components for superior stability.
They also include GPU Tweak or easy-to-use tuning software that helps users to squeeze every last drop of performance out of their graphics card and stream on-screen action over the internet in real time.
GTX 750 has a 1059MHz overclocked base clock that runs as fast as 1137MHz when boosted, while the GTX 750 Ti flies along with a 1072MHz overclocked base clock that ratchets all the way up to 1150 MHz when boosted — so the latest 3D games can be enjoyed at very high detail levels of up to 2560 x 1600 pixels with no slowdown.
Both GTX 750 Ti and GTX 750 offer support for the latest DirectX 11.2 standard (up to API feature level 11_0), which allows on-GPU tessellation that delivers more and incredibly detailed geometry to be packed into every game scene — characters come to life with detail levels that rival blockbuster movies.
The cards also include NVIDIA PhysX technology that enables games to provide much more accurate simulations of real-world physical interactions, including brilliant dynamic effects such as blazing explosions, rippling water and debris that reacts just as it would in the real world.


AVAILABILITY & PRICING:
GTX 750 Ti and GTX 750 SRPs are:
GTX750TI-OC-2GD5 PHP 10,390
GTX750TI-PH-2GD5 PHP 9,690
GTX750-PHOC-1GD5 PHP 8,290