Toshiba releases an upgrade to the Toshiba Portege lineup, the Toshiba Portege Z10t, a convertible or a tablet that comes with a keyboard dock. With the keyboard dock, it becomes an ultrabook complete with all the ports you can find in a laptop.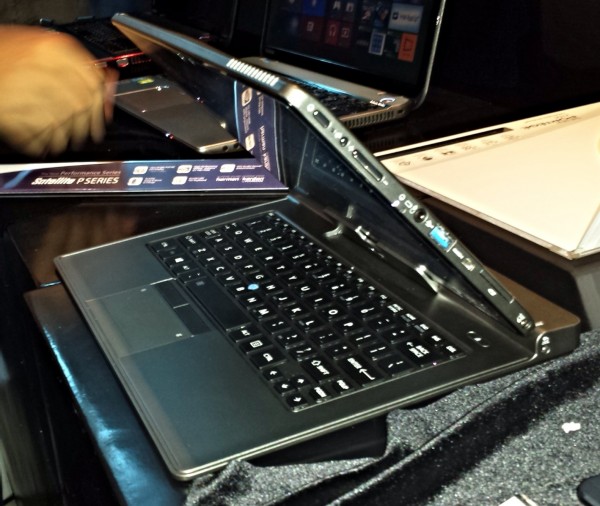 The thin detachable laptop and tablet in one features a bright 11.6-inch full HD touch IPS display and already running on Windows 8 pro, which is an a major advantage to business and enterprise users.
As an ultrabook, the Portégé Z10t runs on the latest Intel Core processors and embedded high speed SSDs.
The Portégé Z10t also offers many convenient ways to navigate and enter data. In laptop mode, users get easy access via the backlit keyboard or they can type in text on the digital keyboard if they prefer. Further navigation through the menus is possible by using finger commands on the touch screen or the multi-touch touchpad. This is further improved with Accupoint functionality, which offer an even higher grade of touch precision.
The ultrabook convertible also features an optional Digitizer Pen that will allow drawing and sketching on the tablet screen or accurate taps on specific areas or menus. There's also a handwriting recognition feature, which turns randomly made on-screen notes into editable digital documents.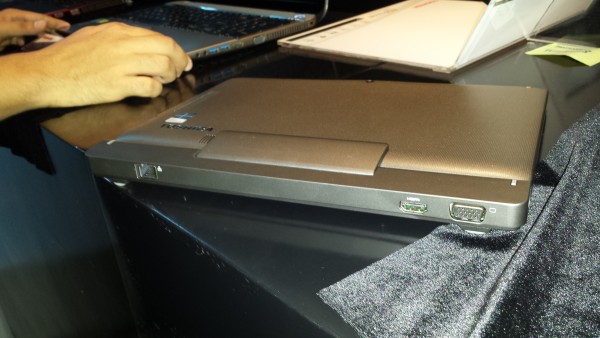 In addition, the Portege Z10t comes with security features such as TPM chip and Intel vPro technology and is also well outfitted in terms of connectivity.
The Portégé Z10t is intended for enterprise road warriors and as such it can accept extensive daily use. Stored data is far less vulnerable if the device is accidentally dropped. Moreover, the keyboard is spill resistant.
The Portégé Z10t has several advanced security and data management features installed: Intel Anti-Theft functionality reduces the risk of unauthorized access, the Trusted Platform Module (TPM) safeguards locally stored critical data, and Intel vPro technology is a comprehensive built-in security set tailored to the computer usage and the related threats of today.
Besides giving added security against latest security threats, Intel vPro also allows IT departments to monitor, maintain, repair and upgrade the Portégé Z10t remotely.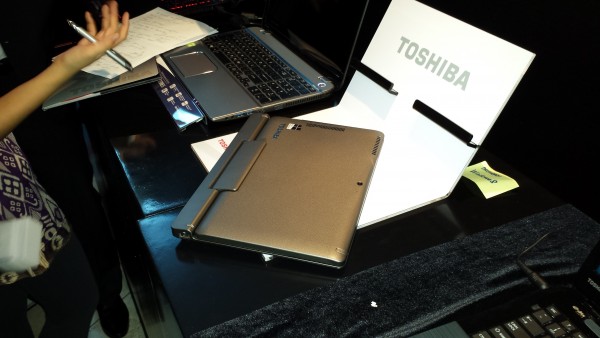 With its focus firmly on mobile workers, the Portégé Z10t is packed with advanced connectivity features for fast data transfer and reliable network access. This detachable Ultrabook has the latest USB 3.0 ports on board, allowing for much faster data exchange with peripheral devices. Through HDMI and RGB, an easy connection can be made to the big screen, while the Intel Wireless Display technology enables users to send documents and multimedia files to a compatible TV set without any cables. The system also offered reliable and fast network access through the integrated Gigabit LAN port.
Coming in sleek, steel grey metallic chassis, the Toshiba Portege Z10t offers full flexibility to business professionals who need a tool that easily adapts to numerous computing demands.
By the way the tablet only weighs 850 grams.


Product specs:
Toshiba Portégé Z10t – detachable Ultrabook™ laptop and tablet in one
• 11.6" Full HD high brightness touch display with full backlit keyboard, multi-touch touchpad, Accupoin™, Digitizer Pen and Stylus Pen
• Choice of latest Intel® processor for Ultrabook or Intel® Dual-core Processor 847
• 128GB or 256GB SSD technology
• Connectivity: WiFi b/g/n or a/g/b/n, Bluetooth 4.0, optional Intel® Wireless Display; Tablet: 1x USB3.0, HDMI® (micro), SD, HP/Mic Combo Keyboard Dock: 1x USB2.0, HDMI, RGB, Gigabit LAN
• Business utility tools: Trusted Platform Module (TPM v1.2), Intel® Active Management Technology, Intel® Anti-Theft, Toshiba Eco Utility Software
• Color: Steel grey metallic
• Dimensions and weight: 299×220.5×16.9(front)/ 19.9(back) mm
• Weight: 850g (Tablet), 1.4kg (with Keyboard Dock)
• Windows 8 Pro or Windows 8