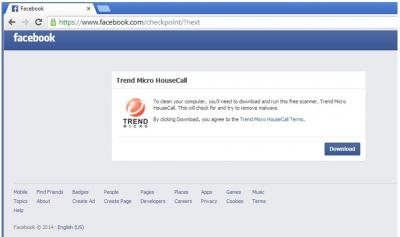 Trend Micro, Inc. announced it has expanded its partnership with Facebook to incorporate Trend Micro HouseCall, a royalty-free security solution which will help detect malware and keep devices secure for Facebook's more than 1 billion users.
The social platform is a tempting target for spammers and criminals. The Philippines in particular ranks second in Southeast Asia in clicking malicious links behind Malaysia and still remains a top 2 country of the world with the highest Facebook penetration.
Trend Micro's HouseCall will complement Facebook's existing systems to mitigate these threats by detecting and alerting users to malicious activity that could compromise user security and privacy.
"HouseCall will give Facebook users an additional safeguard against the malicious attacks that interacting online can bring," said Trend Micro Chief Marketing Officer Kevin Simzer. "We are pleased to partner with one of the world's leading social media networks to provide a free solution that will help protect the online security and privacy of billions of users."
Potentially infected users are identified and notified by Facebook with the option to download the free version of HouseCall, which will check for and remove malware.
HouseCall will begin its scan on affected accounts of users who choose to download the scanner, and users will be able to continue using Facebook while the scan takes place. Once the scan is complete, a message will alert users if the cleanup was successful or unsuccessful.
Facebook users' accounts and devices have the opportunity to utilize Trend Micro's free anti-virus tools to scan and clean their systems.
"We use a combination of systems to help protect people using Facebook from threats like malware. Incorporating the malware detection and cleanup capabilities of Trend Micro HouseCall into these systems will increase our ability to perform this important work," said Chetan Gowda, Software Engineer at Facebook.
To learn more about how Trend Micro protects against online threats and enables users to experience social media safely, please visit www.trendmicro.com.