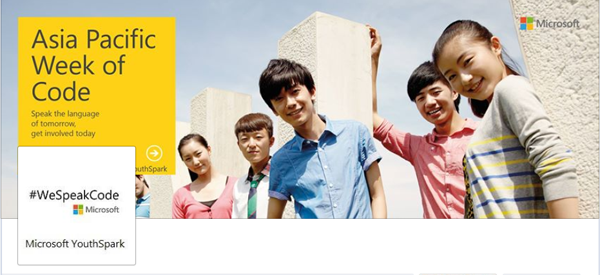 Knowing how to code could very well be your ticket to land a job. This statement rings more true today since the world has become digitally connected, with people using apps in just about any phase of their lives and more companies offering these services.
To encourage more people to get into coding and eventually increase their digital skills set to adapt to the demand of modern workforce, Microsoft Philippines launched "We Speak Code"—a week-long campaign that is also happening throughout Asia Pacific from April 21 to April 27.
The campaign is patterned after the highly successful "Hour Code" campaign by Code.org, a non-profit organization dedicated to expanding computer science education. For this particular campaign, more than 10 million students the world over have participated.
We Speak Code campaign will enable people to take first step towards learning to code through interactive coding courses provided by Microsoft and Code.org, according to Alvin Gendrano, director for the Developer Platform Group for Microsoft Philippines.
The campaign hopes to tap millions of people from all over the region to have a "taste" of what coding is all about, even for those who hardly have any inkling of the activity. Gendrano said Microsoft's coding campaign wishes to carry the message that coding is very accessible and even easy to learn.
He said knowledge of computer science and basic programming are the skills that serve as foundation for many jobs today and those that will be created in the future.
A report by the International Youth Foundation (IYF) released last year found that the global youth unemployment rate is expected to reach 12.8 percent by 2018.
As the technology sector continues to drive economic growth in Asia, youth with ICT skills will find themselves better qualified for new employment and entrepreneurial activities.
According to the study "Connecting to Work" from The World Bank, in India, for example, jobs in the ICT industry pay up to twice what service-sector jobs pay, whereas in the Philippines an entry-level tech job pays, on average, 38 percent more than minimum wage.
Beginning 21 April, Microsoft has hosted a range of activities and events across the region in collaboration with local partners to celebrate "We Speak Code".
The company is also providing tutorials and lessons on its website (Microsoft project Siena) for people from all walks of life to host their own basic coding training in their schools and communities.
Microsoft is also supporting Code.org's petition for every student to have the opportunity to learn computer science in every school.
Log on to wespeakcode.net to sign the petition or share coding stories, images, thoughts and events via social media such as Twitter, Instagram and Tumblr using the hashtag #wespeakcodeph.
Several Filipino personalities have already expressed their support for the campaign and these include style-icon Laureen Uy, musician Christian Bautista and Senator Francis "Chiz" Escudero.
For more information on We Speak Code visit www.wespeakcode.net, like www.facebook.com/MicrosoftPhilippines on Facebook or follow @MicrosoftPH on Twitter.