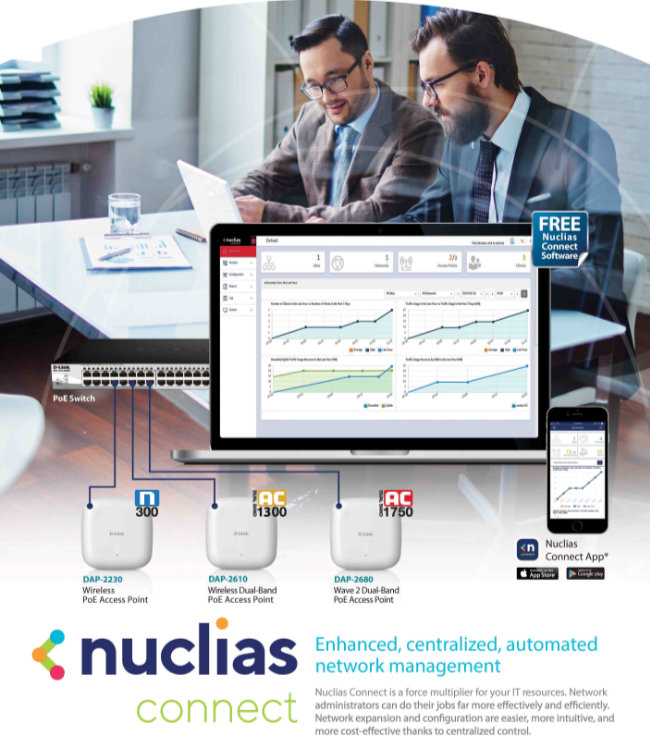 Nuclias Cloud is a simple, flexible feature-rich cloud networking easily accessible at the touch of a button, to manage, capture and analyze insights into every connected device
D-Link, one of the world's biggest suppliers of home networking products, introduces Nuclias Cloud that provides a cloud-based management tool without the need for a local controller.
The zero-touch provisioning and centralized cloud-based control make the network simpler to install and easier to manage, reducing cost and complexity. It's unlimited scalability and low-cost licensing model also make it the ideal choice for growing businesses.
The solution features a multi-tenant structure, allowing deployment across multiple sites and companies. It also generates advanced traffic report and data analysis tool, providing business owners and IT professionals with real-time insights.
Additional features include a secure role-based administration system, auditable change logs, automated firmware updates, authentication via captive portal, LDAP, RADIUS server and also supports Facebook and Google login for guest Wi-Fi access, and automated network monitoring.
Nuclias Cloud has been designed to meet the large, medium and small businesses. The Wave 2 Cloud-Managed Access Points are best-in-class and range from an economical AC1300 2X2 to a more enterprise level AC2600 4X4.
Nuclias Cloud-Managed Switches offer a robust set of features designed to support the most demanding applications, and range from 10 port to 52 port, in both PoE and non-PoE models.
The Nuclias Cloud will be coming to the Philippines this September at all official D-Link distributors. For more information on Nuclias, visit www.nuclias.com.