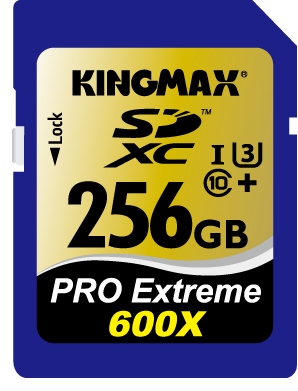 Flash memory module maker KINGMAX has released a high-speed memory card the PRO Extreme SDXC/SDHC and PRO microSDXC/SDHC that supports writing of high definition 4K2K resolution video/photo formats.
The new flash drives are able to satisfy consumer's need for capturing speed and quality when using digital SLR cameras and camcorders. They are able to reduce download times for large size files that come with super high resolution, and retain excellent color and resolution when played back on UHD TVs, notebook computers, mobile phones and tablets.
The KINGMAX PRO Extreme SDXC/SDHC not only supports 4K2K, it also complies with UHS-I Speed Class 3(U3) writing speed of at least 30MB per second according to the technical standards specified by the SD Association.
The PRO Extreme SDXC/SDHC memory cards are also compatible with SDHC and SDXC devices, allowing cameras and camcorders to exert remarkable best performances.
KINGMAX also has high-speed access memory card selections for mobile phones and tablets–the Pro microSDXC/SDHC. They comply with USH-I Speed mode SDR104 specifications and their speed performances are more than sufficient. They also consume very little power so you won't have to worry about them using up too much battery power. Users can still use their mobile phones and tablets to listen to music or surf the web while taking photos or recording videos.
Super high resolution Full HD (1080p), Ultra HD (2160p), 3D or 4K2K video recording are no problem with PRO Extreme SDXC/SDHC. Currently it comes in 32GB, 64GB, 128GB and 256GB capacity selections, and the Pro microSDXC/SDHC comes in 8GB, 16GB, 32GB and 64GB specifications.