Samsung Philippines and SM Appliances in Makati partnered recently to showcase the future of homes with "convergence" setup. The Samsung convergence ecosystem is an actual home setup-slash-showroom that features Samsung appliances, gadgets and devices built with features that allow them to connect with each other, to the Internet, or conserve energy.
Samsung convergence ecosystem presents the idea that homes can be made better with appliances and devices that help families to not only enjoy the technology but also make the most out them by turning homes into efficient living spaces.
To Samsung, a home is where the family and friends can spend real quality time with one another without having to worry about the little things.
Here are some home scenarios with Samsung's convergence idea:
• For example, a mother would have more time to help her son with his homework without having to worry about the laundry because the fabric-caring washing machine saves up time intended for ironing clothes.
• The son could share his latest trip photos with his family through the Smart TV directly from his phone.
• The father can control both the air conditioner and the music on the speakers with his phone so as not to disturb the daughter, comfortable and asleep on his lap.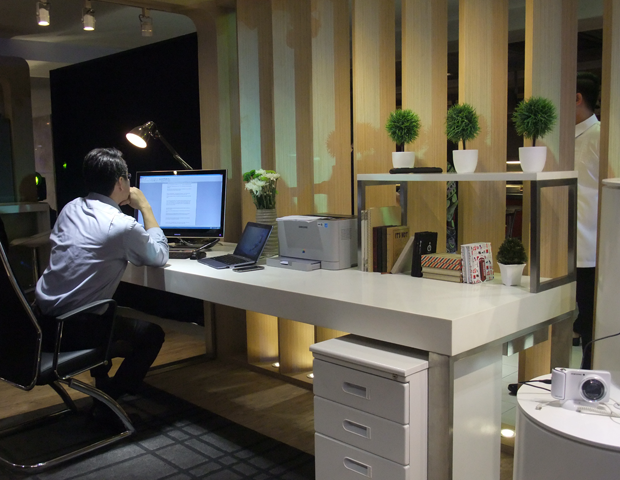 Samsung partnering with retail appliance giant SM emphasizes the company's commitment to the future through convergence technology. Samsung already introduced products that can be easily controlled and programmed to interact with one another.
Through Samsung's unyielding passion for excellence, innovations that were previously thought to be decades away from fruition are now available and at our fingertips with Samsung Smart TVs, smartphones, Smart Cameras, Bluetooth and NFC enabled speakers, laptops and Wi-Fi capable printers and airconditioners.
Called the S-Path, Samsung's convergence showroom in front of SM Appliance in Makati, presented Samsung innovations working through its products.
A walk through the S-Path gives consumers a taste of these appliances and gadgets in a much more engaging, interactive and interesting manner. Consumers can actually feel and see how much more fruitful and enjoyable a home when it is when supported by a Samsung world.
Alongside the unveiling of Samsung S-Path, a new look of the Appliance Center was also unveiled.