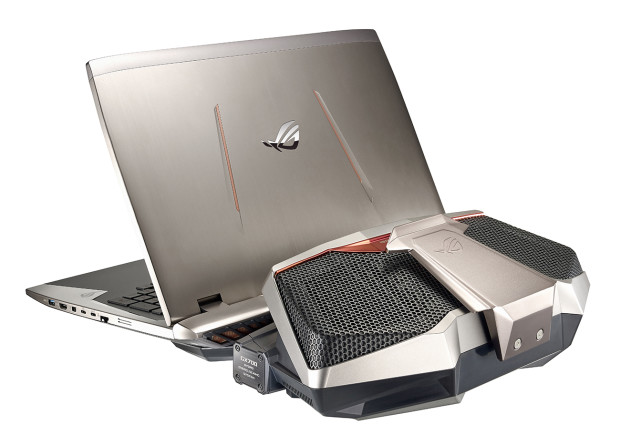 ASUS has introduced in the Philippines three new anticipated ROG models led by the ROG GX700, the world's first water-cooled gaming laptop that fetches a price of Php249,995 and will arrive in stores by early March.
ASUS also introduced the ROG G752, which features 3D Vapor Chamber Cooling, and the mid-range priced but powerhouse ROG GL552.
ROG, which stands for Republic of Gamers, is a sub brand under ASUS for high performance desktops and laptops intended for extreme gaming. ASUS ROG has allowed the company to capture 40 percent market share of the world's gaming laptops,according to the latest report by DigiTime for the first half of 2015.
ROG GX700 specs and features
The flagship water-cooled GX700VO features Intel Core i7-6820HK quad core processor.
When the laptop is docked to its water-cooling station, overclocks to a remarkable 4GHz. In addition, 32GB of DDR4 RAM that overclocks to 2800 MHz is also on board.
For the graphics powerhouse, you get a desktop NVIDIA GeForce GTX 980 that has 8GB of GDDR5 VRAM, which, when water-cooled, allows the chip to run in its full potential, thereby eliminating the bottleneck of low thermal headroom.
And for the storage, the GX700VO is equipped with 2x 256GB NVMe PCIe SSD set-up in RAID0, and allows for up to 3.5GB/s read/write speeds.
The "Hydro Cooling System," which made this notebook the world's first water-cooled notebook, is the pinnacle of this year's innovation for ASUS and ROG.
The technology has two radiators, and huge fans with variable speed control thru the built-in ROG Command Control Center software. This cooling module allows for the system to run cooler in idle, and be overclocked as wanted, or needed, and allows for a full desktop replacement for all those wanting to lug around a system that's highly capable of 4K gaming.
The coolant inside the tubes is specially-formulated to reduce the corrosion rate of the metals, and reduce evaporation rate to lengthen the intervals of the maintenance, while the connectors between the dock and the notebook prevent leaks from occurring, even on repeated insert-remove cycles.
Then there's the presence of two power bricks, with one rated at 190 Watts—should you wish to use the laptop alone—while the other is rated at 330 Watts—should you wish to dock the laptop into the cooling dock and get the most out of the system.
And garnishing all that package, the combo arrives in a Polycarbonate luggage, packed with foams inside to protect both the laptop and the dock, while making the transportation of the water-cooled beast a whole lot easier.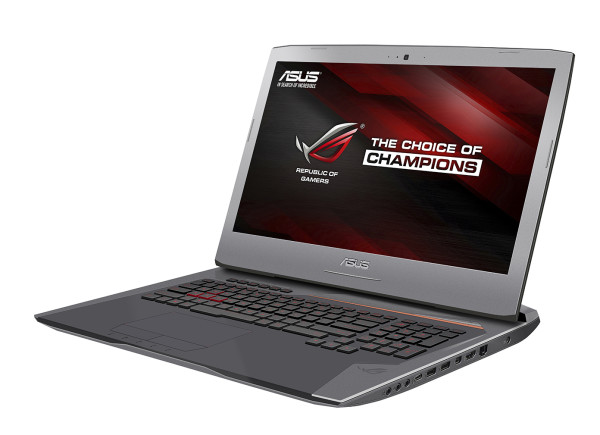 ROG G752 specs and features
For power-hungry users, the ROG G752V series represents the latest iteration of ASUS' no-compromise gaming pinnacle. The line is touted to carry the world's first anti-ghosting keyboard with 30-key roll-over, 2.5 mm deep key drop, five dedicated Macro function keys, and a dedicated gameplay record key.
It also features an efficient cooling system with separate cooling modules for the processor and the graphics engine to ensure cooler and longer gaming, a dust release thermal solution to minimise dust build-up on the chassis, and on the highest configurations, the G752VY, the world's first 3D Vapor Chamber cooling system on a laptop, which helps lower the temperature by up to 30%.
Finally, the line supports NVIDIA G-Sync Technology, which allows variable refresh rates on the display panel to ensure smoother gameplay and media playback, and reduced screen tearing.
The series is guarded on the lower end by
The ROG G752V has two variants: the G752VL, which features the latest Intel Core i7-6700HQ Quad Core Processor, 8GB of DDR4-2133 RAM (upgradeable up to 64GB), 1TB 7,200 rpm HDD, and an NVIDIA GeForce GTX 965M with 2GB GDDR5 VRAM. It carries a price tag of PHP 79,995.00.
The G752VT, featuring the same Intel Core i7 processor as the lower VL model. It is further equipped with 16GB of DDR4 RAM, 128GB NVMe PCIe SSD for primary drive (up to 2.2GB/s Read/Write Speed) that's 4x faster than a traditional SATA3 SSD, coupled to a 1TB HDD, and NVIDIA GeForce GTX 970M Graphics with 3GB GDDR5 VRAM.
One step away from the top, we have the G752VY that retails for PHP 149,995.00. It still carries the same Intel Core i7 Processor as the prior two, coupled with 16GB of DDR4 RAM. Storage is handled by a 256GB NVMe PCIe SSD and 1TB HDD, while graphics muscle is provided by an NVIDIA GeForce GTX 980M with 4GB GDDR5 VRAM.
Topping the range is another G752VY, retailing for PHP 189,995.00. The muscle of this laptop is bumped by a higher Intel Core i7-6820HQ Quad Core Processor, 32GB of DDR4 RAM, 512GB NVMe PCIe SSD and 2TB HDD, and an NVIDIA GeForce GTX 980M with 8GB of GDDR5 VRAM, assuring that this notebook can handle even the demanding 4K resolution for your gaming needs.
ROG GL552 specs and features
The GL552 series comes in two variants. First, the GL552JX, which sports a matte plastic lid with aluminium center inserts and a red-lit ROG logo. It packs Intel's tried-and-tested fourth generation Core i7-4750HQ processor with Intel Iris Pro graphics and 128MB eDRAM that ensures you get fast on-board graphics even on less demanding tasks and even on power-saving mode.
Further, it has 8GB of DDR3L-1600 RAM, 1TB HDD, and discrete NVIDIA GeForce GTX 950M with 4GB DDR3 VRAM, to assure smooth gameplays all throughout your LAN parties.
On the higher level of the spectrum, you get the GL552VW, which contrasts the JX variant by having a full aluminium lid still flanked by the red-lit ROG logo, a newer sixth generation Intel Core i7-6700HQ that offers up to 20% performance and up to 23% better efficiency over comparable fourth generation processors.
8GB of the latest DDR4 memory for faster clock speeds and lower voltages, 128GB M.2 solid-state drive for primary drive, and 1TB HDD for your storage, and a faster NVIDIA GeForce GTX 960M with 4GB GDDR5 of VRAM.
Both models feature red-backlit keyboards with 1.8 mm key travel for better feedback, Full HD IPS displays, and ROG AudioWizard with SonicMaster premium speakers for better listening experience. The GL552JX is available for PHP 59,995.00, while the GL552VW carries a price tag of PHP 69,995.00.
As with all ASUS Notebooks that came preloaded with Windows 10, all current-iteration ROG Notebooks arrive with 2 years global warranty standard, worth Php 2,500, all throughout the duration of the warranty period, assuring the end-user of hassle-free support in fifty-six countries that ASUS is in.