Asus launched its new ROG (Republic of Gamers) notebooks now powered by 6th generation Intel Core processors and runs on Windows 10.
The gaming laptops also feature new chassis and upgraded hardware and come with 2-year warranty on parts and services.
The 2015 Asus ROG series notebooks come in three variants:
ASUS ROG G752 powered by the 6th-generation Intel Core i7 quad-core processors and paired with Nvidia GeForce GTX 980M graphics processors with up to 8GB of GDDR5 video memory. Specifically made for Hardcore gamers and enthusiasts.
ASUS ROG GL552, a high-performance gaming laptop powered by up to 6th-generation Intel Core i7 processors and NVIDIA GeForce GTX 960M graphics with DirectX 12 support. This is for mid-range gamers.
And the ASUS ROG G501, the thinnest gaming laptop powered by the 6th-generation Intel Core i7 processor and the new NVIDIA GeForce GTX 960M 4GB DDR5 graphics for an unrivalled gaming experience.
The Nvidia G-Sync technology is standard on all varieties. An anti-ghosting gaming keyboard that supports up to 30-key rollover, 2.5-mm long-travel keys, Thunderbolt 3.0 technology with USB Type-C, and up to 64GB of DDR4 RAM. Along with the beastly specs, the G752 also has a FHD resolution IPS display to maximize the viewing experience.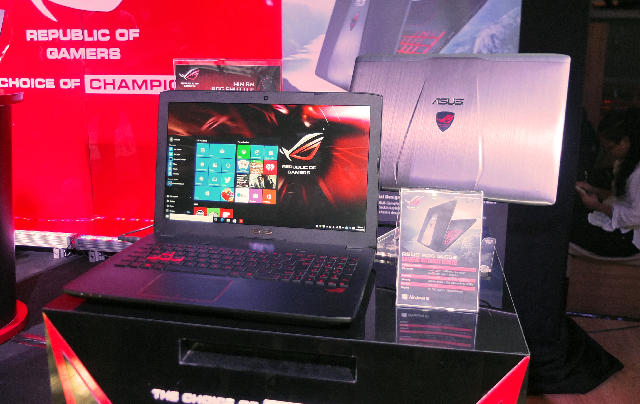 ROG G752 key features:
The unique thermal design that helps prevent internal dust build-up. This exclusive design directs dust into the anti-dust tunnel to keep them away from internal components. This prolongs component lifespan and enhances overall stability of the laptop.
Dedicated cooling modules for the CPU and GPU to effectively cool each component. Hot exhaust is efficiently managed and expelled through the rear vents to direct heat away from you for more comfortable gaming sessions.
Key features of GL552:
ASUS-exclusive GameFirst III network optimization, a highly-responsive, low-profile, red-backlit keyboard with specially-marked WASD keys, and an up to Full HD IPS display with wide viewing angles. It bears the distinctive G Series lines and has a user-friendly design that provides access to the drive bay and memory slots for easy upgrades.
The new gaming notebook retains the classic stealthy F-22 Raptor-inspired lines popularized by ROG's G Series, with angled surfaces giving GL552 a dynamic, powerful stance — for a design that's as attractive as it is strong.
With an up to 1TB hard disk drive and an up to 128GB M.2 solid-state disk (SSD) available as an option — fulfilling users' desires for both maximum storage and maximum speed.
It's also simple to push GL552 even further, with a slide-off panel offering instant access to M.2 SSD, hard drive and memory slots.
Features ASUS-exclusive GameFirst III technology, which optimizes networks to give users lag-free gameplay. It prioritizes game packets and allocates more bandwidth for smooth, lag-free gaming.
Large 15.6-inch Full HD IPS display has a matte-black finish that eliminates glare for stunning visuals without distraction. This superb display offers wide 178-degree viewing angles for minimal color shift even when viewed from extreme angles.
ASUS SonicMaster provides rich, crystal-clear high-fidelity audio, while ROG AudioWizard features five easy-to-use preset modes with settings tailored to suit different game genres to give an even more immersive experience.
Features of ROG G501:
The notebook's impressive power is supported by ASUS-exclusive Hyper Cool technology with dual independent fans, delivering smooth, stable performance for both gaming and professional content creation.
15.6-inch QHD (3200×1800) to treat users to incredibly detailed visuals and lifelike colors.
Ultraportable design for gaming on the go
One of the world's thinnest gaming laptops, with a height of just 20.6mm. It features a lightweight aluminum construction and weighs just 2.06kg (non-touchscreen). It's modern, elegant design sports red bezel accents and gaming features like a red-backlit keyboard with 1.6mm of key travel for a responsive feel, a numeric keypad, and marked WASD cursor keys.
The coolest and quietest gaming laptop on the market, with exclusive Hyper Cool technology built in. This advanced cooling system employs dual fans and copper heat sinks to remove heat efficiently with minimal fan noise. Both processors (CPU) and graphics-processing unit (GPU) are cooled independently based on each component's demands to ensure maximum efficiency — delivering extremely cool gaming experiences that are both whisper-quiet and silky smooth.
Can be paired with PCI Express x4 (PCIe x4) solid-state disks (SSDs) for data-transfer speeds of approximately 1400MB/s — more than twice (2X) as fast as SATA III SSDs or 16X faster than SATA III hard disk drives! Optional Onboard Intel Thunderbolt™ technology provides a single-cable data and graphics interface with speeds of up to 10Gbit/s — twice the bandwidth of USB 3.0.
Features ASUS SonicMaster audio, incorporating ICEpower, Bang & Olufsen technology, for high-quality sound. ASUS AudioWizard gives users five preset audio modes with settings tailored to suit different game genres.