MSI upgrades GT and GS notebook series to NVIDIA GeForce GTX 900M graphics. Gaming notebook manufacturer MSI has announced that its GT and GS notebook series are now all upgraded to the latest NVIDIA GeForce GTX 900M graphics.
MSI GT and GS lineup sports 15.6" to 17" models and the 4th Generation Core i7 CPUs from Intel. Apart from the upgrade to NVIDIA GeForce 900M, other familiar MSI exclusive features developed for gamers found in MSI gaming notebooks are the SteelSeries gaming keyboards with multi-color backlighting, Killer DoubleShot Pro, sound by Dynaudio and Audio Boost.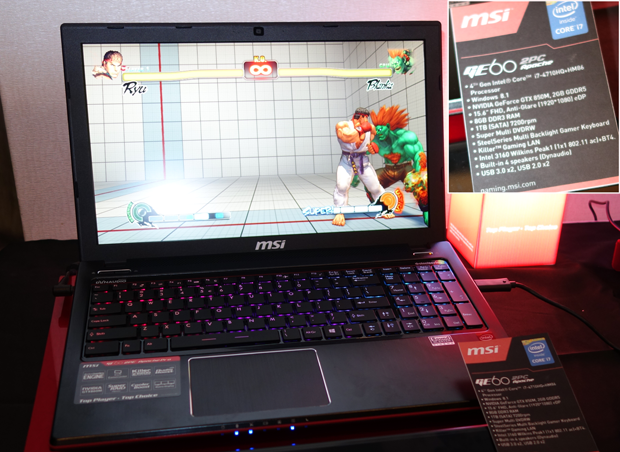 GS60 gaming notebook
In summary, the exclusive features at 2014 MSI gaming laptops include:
The latest NVIDIA GeForce GTX 900M series GPU
Exclusive Super RAID 3 technology
Exclusive SteelSeries keyboard and SteelSeries Engine
Exclusive Dynaudio sound
Exclusive Xsplit Gamecaster bundle
World's 1st gaming notebook utilising Killer Doubleshot Pro technology
About NVIDIA GeForce GTX 900M series
The NVIDIA Geforce GTX 900M Series brings the next-generation graphics performance to serious gaming notebooks. As the first graphics solution to reach a score over 10,000 in 3DMark 11, the GeForce GTX 980M delivers extremely fast and fluid gameplay at the highest settings and resolutions in a lightweight and portable design.
MSI continues to work in cooperation with well-known gaming teams around the world, including FNATIC from Europe and teams from Asia. MSI actively participates in a variety of gaming activities to increase name exposure, to improve on product functions, and to enhance user experience. What's more, for its new platform, we set up the MSI Gaming website and forum for MSI gaming laptop users and competition gamers around the world. For more on competition gaming products and gaming info, please go to http://gaming.msi.com/.
Specs: GT72 Dominator
Operating System Windows 8.1
LED Backlight Display 17.3″ , WLED FHD (1920×1080), Anti-glare
Processor Intel® 4th Gen Core™ i7 processor
Memory Type 4x DIMMs DDR3L-1600,
Graphics NVIDIA GeForce GTX980M/ 970M
Storage Capacity Optional M.2 SSD*4 (Super Raid 3) + 2.5" HDD
Keyboard Full-color backlight, Keyboard by SteelSeries
Optical Disk Drive Yes
USB 3.0 6
Card Reader SD(XC/HC) /MMC
Video output: HDMI 1.4 + mini DP*2
Mic-in/Headphone out
Line in/Line out 1/1
1/1
LAN/WiFi Killer Double Shot Pro (Gb LAN+ 802.11ac)
Bluetooth Bluetooth v4.0
Webcam 30 fps FHD
Battery Built-in 83Wh Li-ion battery
Power Adapter 230W
Dimension (WxDxH) 428 x 294 x 48mm
Weight 3.78 Kg
Sepcs: GS70 Stealth
Operating System Windows 8.1
LED Backlight Display 17.3″ Full HD (1920×1080), Anti-glare
Processor Intel® Core™ i7 Processors
Memory Type DDR3-1600 up to 16GB
Graphics GeForce GTX 970M – GDDR5 3GB
Storage Capacity Optional Super RAID 2 + 2.5" HDD
Keyboard Full-color backlight, Keyboard by SteelSeries
Optical Disk Drive N/A
USB 3.0 4
Card Reader SD(XC/HC)
Video output: HDMI 1.4 + mini DP 1.2*2
Mic-in/Headphone out 1/1
LAN/WiFi Killer Double Shot Pro (Gb LAN+ 802.11ac)
Bluetooth Bluetooth v4.0
Webcam 30 fps FHD
Battery Built in Li-Polymer 60Wh
Power Adapter 150W slim type
Dimension (WxDxH) 418 x 287 x 218mm
Weight 2.6 Kg
Specs: GS60 Ghost
Operating System Windows 8.1
LED Backlight Display 15.6″ Full HD (1920×1080), Anti-glare
Processor Intel® Core™ i7 Processors
Memory Type DDR3-1600 up to 16GB
Graphics GeForce GTX 970M – GDDR5 3GB
Storage Capacity Optional Super RAID + 2.5" HDD
Keyboard Full-color backlight, Keyboard by SteelSeries
Optical Disk Drive N/A
USB 3.0 3
Card Reader SD(XC/HC)
Video output: HDMI 1.4 + mini DP 1.2
Mic-in/Headphone out 1/1
LAN/WiFi Killer Double Shot Pro (Gb LAN+ 802.11ac)
Bluetooth Bluetooth v4.0
Webcam 30 fps FHD
Battery Built in Li-Polymer 52Wh
Power Adapter 150W slim type
Dimension (WxDxH) 390 x 266 x 19.9mm
Weight 1.9 Kg