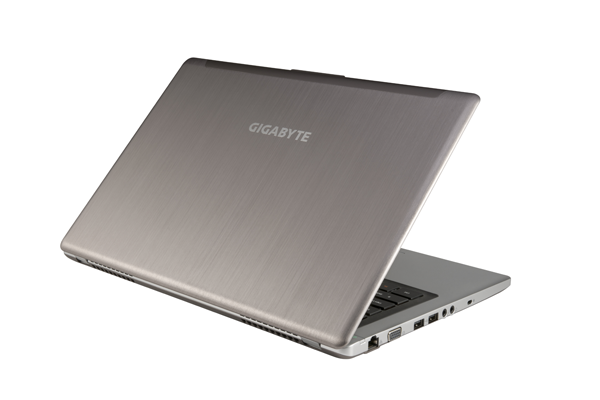 The 14-inch-display Gigabyte U2442V Ultrabook is an ultrabook with discrete graphics power. Apart from third generation Intel Core Processor, the Gigabyte U2442V comes fitted with a discrete "Kepler" based GeForce GT 640M graphics chip with NVIDIA Optimus Technology.
Gigabyte officials say the Gigabyte U2442V Ultrabook is targeting users who want a mobile device that they can also use for serious gaming, which is why the inclusion of the dedicated graphics chip alongside the processor.
As an ultrabook, the Gigabyte U2442 Ultrabook features a metal finish, measures only 18.5-21mm thick and it weighs just 1.59kg.

The Gigabyte U2442V Ultrabook comes with a powerful 3rd Generation Intel Core i5 standard voltage processor that delivers tremendous performance. But expect a Core i7 version of the Gigabyte U2442 Ultrabook, according to Gigabyte officials.
But what is NVIDIA Optimus technology? It is actually a power-saving feature/switching mode developed by NVIDIA to make a notebook apportion graphics power according to the demand or tasks. If the notebook is used for heavy graphics such as online gaming or video, the graphics processing will automatically be shouldered by the NVIDIA graphics card. If the demand for graphics is low, the notebook will automatically switch to the Intel built-in graphics, thus saving power.
Taiwanese-based PC and parts makers Gigabyte has always been focused on developing high power machines for gaming use, thus the Gigabyte U2442V Ultrabook has benefited from this objective. Gigabye's ultrabook features a dual air vent design (one for CPU and one for GPU) that efficiently eliminates heat and keeps noise to a minimum during longtime usage like in gaming.
With the high-speed 128GB mSATA SSD and a huge 750GB/1TB HDD, the dual-storage system, the Gigabyte U2442V Ultrabook provides high performance and a massive storage option.

In addition, there's also the presence of a backlit keyboard, connectivity such as USB 3.0, Bluetooth 4.0 and 2T2R Double Antenna plus all the ports you need, including VGA, HDMI, LAN.
Gigabyte U2442V Ultrabook will be available in the Philippines by end of August with price range of $999 (for the Core i5 version) to $1299 (for the Core i7 version).