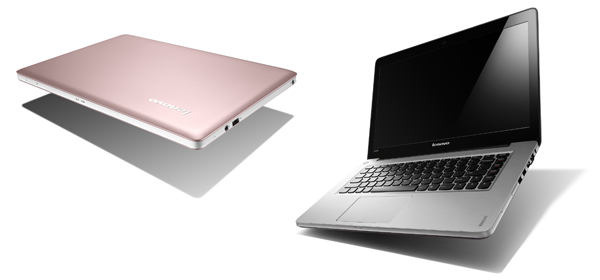 Lenovo's new ultrabooks IdeaPad U310 and IdeaPad U410 both reflect style and performance, features that are defining the transformation of PC notebooks. Making notebooks become cool-looking devices fit as fashion accessory has been Lenovo's preoccupation since it introduced the notebook line "U" series, which are pretty and slim notebooks positioned to cater to users with distinguished taste and flair.
Literally as slim as a paperback book and even have the look of a slim felt-made-cover book, the 13.3-inch (screen size) IdeaPad U310, and 14-inch IdeaPad U410, are ideal for any mobile needs. It measures only 18mm and 21mm thick, weighs 1.7kg and 1.8kg, and boasts of up to seven to nine hours of battery life, respectively, on a single charge.
IdeaPad U310 and IdeaPad U410 ultrabooks feature solid state drives making them boot up fast and resume from sleep up to 40 percent faster than non-optimized devices, thanks to Lenovo's Enhanced Experience 3 optimization for Windows 7. With Lenovo Smart Update, the IdeaPad U310 and IdeaPad U410 automatically update email, IM chats and social media messages even when in sleep mode. The Lenovo U310 and U410 come in a variety of tantalizing colors such as, Aqua Blue, Cherry Blossom, and Graphite Grey.
Both ultrabooks are powered by up to 3rd gen Intel Core i5 Processor, 4GB DDR3 memory, 32GB SSD cache and 500GB Hard Disc Drive (HDD) storage. For optimal visuals when consuming or creating content, the U310 features Intel GMA 4000 HD graphics, while the U410 features NVIDIA GeForce 610M 1GB graphics. Weaving fun into a stellar computing experience, the U310 and U410 come with Intel Wireless Display (WiDi) Technology for wireless use on any big screen.