Lenovo has unveiled its newly expanded and highly innovative X1 portfolio, which includes the ThinkPad X1 Tablet that features a unique modular design.
The modular design of the ThinkPad X1 Tablet offers new functionality through simple clip-on optional modules:
For example, the Productivity Module increases use up to 15 hours total as you can attach an additional battery to the tablet.
The Presenter Module includes a pico projector and HDMI port. While the 3D Imaging Module with its rear-facing Intel RealSense camera allows you to create 3D images.
It comes with a full size ThinkPad keyboard with the iconic TrackPoint has three adjustable typing angles and recreates the classic ThinkPad keystroke feel.
Keyboard and tablet together weigh just 2.4 pounds for an ultra-light laptop experience. What's more, it is the first Windows tablet with LTE Advanced support. The ThinkPad X1 Tablet also features a removable rear panel for serviceability and upgrades.
At CES, Lenovo also unveiled a new ThinkPad X1 Yoga with world's first OLED display and the award-winning ThinkPad X1 Carbon that is thinner and lighter than previous model.
Lenovo introduced a new and redesigned ThinkCentre X1 all-in-one desktop, which makes for an interesting centerpiece for any office with outstanding performance to match.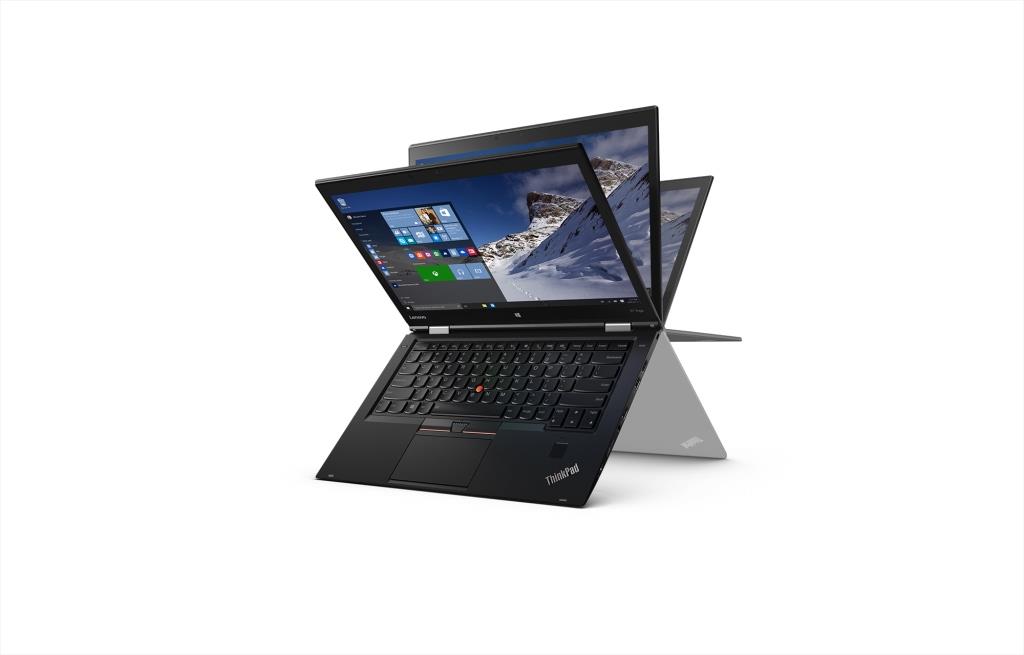 ThinkPad X1 Yoga features
ThinkPad X1 Yoga is now incredibly thin at just 0.66 inches and light at only 2.8 pounds. It is also the world's first convertible featuring an optional Samsung OLED display.
With a patented Lift and Lock keyboard that retracts keys in tablet mode, X1 Yoga also features an active pen that is perfect for highlighting and writing notes directly on webpages using the Microsoft Edge browser. The pen is also housed and charged inside the system so it won't get lost.
ThinkPad X1 Carbon remains the lightest ultrabook
ThinkPad X1 Carbon continues to stand out as the world's lightest 14-inch business ultrabook. One of the most refined and elegant notebooks available today, the X1 Carbon is thinner, lighter and more powerful than ever. Focused on customer-centric design improvements, we listened to customer feedback and made a number of improvements, including more display options, increased memory and storage capacity, improved connectivity and made the X1 Carbon lighter at just 2.6 pounds.
The ThinkPad X1 family also includes a number of accessories specifically designed to match and enhance the overall user experience:
ThinkPad X1 Wireless Touch Mouse is a thin and light dual mode mouse optimized for travel. Flip it over to use the integrated touchpad presenter for easy navigation through slides.
The ThinkPad X1 In-Ear Headphones have been optimized by Dolby for the X1 series and engineered with dual drivers to improve phone calls, music and movies.
The X1 Sleeve, with its soft-touch interior and easy-to-open magnetic flap, is the perfect transport companion for your X1 Carbon or X1 Yoga.
The ThinkPad 65W Micro Adapter is 58 percent smaller and 50 percent lighter than a standard power adapter and is the ideal lightweight travel mate for the ThinkPad X1 Carbon and X1 Yoga.