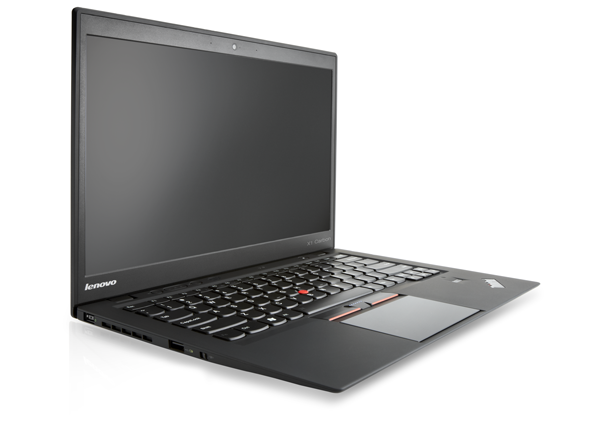 The ThinkPad X1 Carbon, the anticipated ThinkPad ultrabook, which boasts of a chassis carved entirely out of a piece of carbon fiber material and 3G functionality, is finally here.
The ThinkPad X1 Carbon was recently launched in the Philippines along with the ThinkPad T430u Ultrabook, which is the thinnest T-series. The two ultrabooks' launch highlighted the 20 years of ThinkPad innovation.
The ThinkPad X1 Carbon is the world's lightest 14-inch Ultrabook, weighing less than three pounds.
Though incredibly light, thanks to its carbon fiber construction, the ThinkPad X1 Carbon retains the ThinkPad's renowned durability for use in practically any environment.
The ThinkPad X1 Carbon, in fact, passed eight US military tests for durability including low pressure, humidity, vibration, high and low temperature, temperature shock, dust, and physical shock.
As an ultrabook, the ThinkPad X1 Carbon provides eight hours of battery life and industry-best charge times with Lenovo RapidCharge technology (in 30 minutes, charging capacity is already 90 percent).
It is also equipped with optional 3G mobile broadband and hotspot technology.
As a business laptop, the ThinkPad X1 Carbon features a backlit keyboard that maintains the legendary ThinkPad reputation as the industry's best for comfort and accuracy.
The ThinkPad X1 Carbon also includes a multi-gesture glass surface touchpad, HD face-tracking camera, dual array microphones and Dolby-tuned audio for crisp and clear sound.
The ThinkPad X1 Carbon, which also features Intel's vPro technology, is among the first Ultrabooks to offer true corporate-level security and manageability.
For expansion capabilities and to manage unsightly cables, users can dock it via Lenovo's new USB 3.0 Dock.


ThinkPad T430u: Performance for Small and Medium Business
The ThinkPad T430u Ultrabook powers the business and personal computing needs of today's small-to-medium businesses. Think and light, the ThinkPad T430u is configurable with a combination of NVIDIA GeForce graphics and 1 TB of storage. The ThinkPad T430u provides powerful graphics capability and massive storage capacity -features rarely found in ultrabooks.
As an ultrabook, the ThinkPad T430u provides more than seven hours of battery life. Since SMBs often do not have dedicated IT departments, the ThinkPad T430u comes with Lenovo Solution Center for Small Business, which includes Intel Small Business Advantage that provides hardware-based capabilities to improve productivity and enhance security.
This diagnostic center helps users self manage backup and recovery, passwords, Internet connections, anti-virus software, firewall settings and devices. It also comes equipped with Lenovo Solution Center (LSC), a diagnostic and utility suite which provides a simple dashboard to view total system health and take preventive measures to avoid any potential downtime.
The ThinkPad X1 Carbon and the ThinkPad T430u are now available in the Philippines. Pricing for models starts at PhP94,990 and PhP61,990, respectively.