Lenovo Philippines has announced the availability of the ThinkPad X1 Carbon, Lenovo's third generation ultrabook, which lays claim as the world's lightest ultrabook at only 2.8 lbs (1.28 kg). The laptop's chassis is made of carbon fiber, a very lightweight but durable material mainly used in aircraft and racing car and this ultrabook boasts of other noteworthy features like spill proof keyboard, dust proof, and ability to withstand bumps and accidental drops.
The world's lightest ultrabook could also be the world's most expensive laptop as its price already starts at Php105,990 for the ThinkPad X1 Carbon with the Intel Core i5 specification. Higher specifications or the ThinkPad X1 Carbon with the Intel Core i7 is priced at Php130,000.
Some of the key features of this laptop include an "adaptive keyboard"–a new keyboard layout that no longer included some keys and functions such as the F keys on top and the All Caps on the left side, but instead put their functions hidden in short cut strokes or certain functions get activated by touching highlighted symbols on top row above the physical keys.
"In every application that you use, for example you're doing your Word or Excel, the F1 or F2 keys automatically come up on the top row keys. When you're going to the Web conference, probably a Skype function, automatically that function key adjusts when you turn on the laptop's microphone or camera," explains Francis Judan of Lenovo Philippines.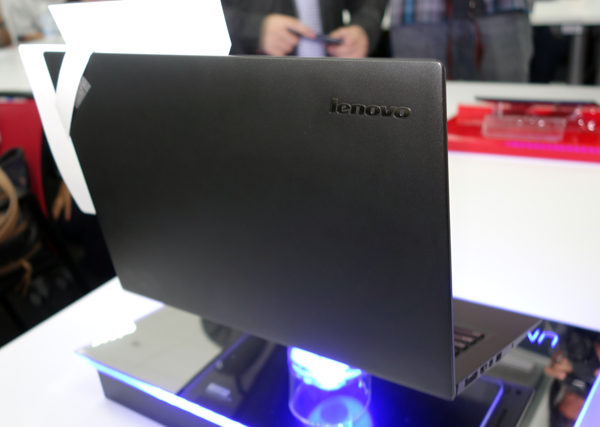 Other features include gesture control (there are six gestures that you can employ using the touchpad), QHD display, rapid battery charging (charge 80 percent of the battery in less than 1 hour), durable hinges (they're made of magnesium aluminum), and of course, you can lay the laptop wide open at 180 degrees on a flat surface. ThinkPad X1 Carbon also comes in 4G variety.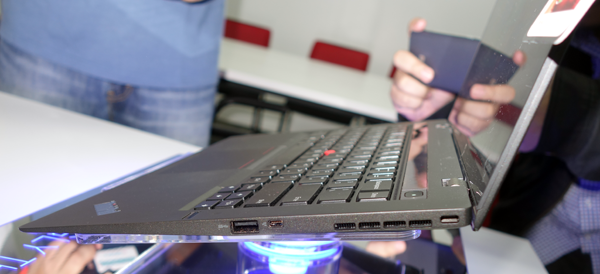 Lenovo ThinkPad X1 Carbon specs:
• Up to Intel Core i7 4600u processor (up to 3.3 GHz, 3 MB L2 Cache)
• 8 GB RAM DDR3
• 256 GB SSD
• Intel HD Graphics 4400
• Intel Gigabit Ethernet
• 3- year Onsite Warranty