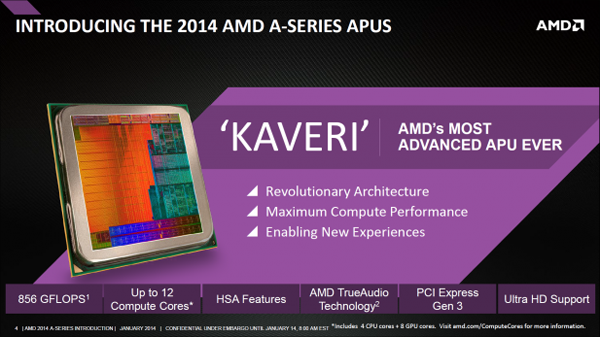 AMD Philippines has announced the availability of the new AMD A-Series APUs (accelerated processing units) processors which already feature AMD Radeon R7 graphics.
Codenamed "Kaveri," the new AMD A-Series APUs promise to deliver superior compute and gaming performance through the following features:
• Up to 12 Compute Cores (4 CPU and 8 GPU) unlocking full APU potential ;
• Heterogeneous System Architecture (HSA) features, a new intelligent computing architecture that enables the CPU and GPU to work in harmony by seamlessly streamlining right tasks to the most suitable processing element, resulting in performance and efficiency for both consumers and developers;
• Award-winning Graphics Core Next (GCN) Architecture with powerful AMD Radeon™ R7 Series graphics for performance that commands respect and with support for DirectX 11.2 ;
• AMD's acclaimed Mantle, an API that simplifies game optimizations for programmers and developers to raise gaming performance to unprecedented levels when unlocked;
• AMD TrueAudio Technology, 32-channel surround audio delivering the best in audio realism and immersion;
• Support for UltraHD (4K) resolutions and new video post processing enhancements that will make 1080p videos look even better when upscaled on UltraHD-enabled monitor or TV ;
• FM2+ socket compatibility for a unifying infrastructure that works with APUs and CPUs.
"AMD maintains our technology leadership with the 2014 AMD A-Series APUs, a revolutionary next generation APU that marks a new era of computing," said Bernd Lienhard, corporate vice president and general manager, Client Business Unit, AMD. "With world-class graphics and compute technology on a single chip, the AMD A-Series APU is an effective and efficient solution for our customers and enable industry-leading computing experiences."
Purchase of the AMD A-Series APUs—which comes in variations of A10-7850K and A10-7700K APUs–will be bundled with free EA's Battlefield 4.
Product Specifications
| | | | |
| --- | --- | --- | --- |
| Model | AMD A10-7850K with Radeon™ R7 Graphics | AMD A10-7700K with Radeon™ R7 Graphics | AMD A8-7600 with Radeon™ R7 Graphics |
| Price[i] | $173 USD | $152 USD | $119 USD |
| Power | 95W | 95W | 65W/45W |
| Compute Cores | 12 | 10 | 10 |
| CPU Cores | 4 | 4 | 4 |
| GPU Cores 1 | 8 | 6 | 6 |
| Max Turbo Core | 4.0GHz | 3.8GHz | 3.8/3.3GHz |
| Default CPU Frequency | 3.7GHz | 3.4GHz | 3.3/3.1GHz |
| GPU Frequency | 720MHz | 720MHz | 720MHz |
| L2 Cache | 4MB | 4MB | 4MB |