Lenovo Philippines recently introduced two additional form factors to its premium flagship X1 computing products, which now have a convertible touch-screen laptop/tablet and a modular 4G LTE capable Windows tablet, apart from the expensive ThinkPad X1 Carbon ultrabook.
The Lenovo ThinkPad X1 Tablet comes with a unique modular design, or there are optional parts called "modules" that you can clip on to the tablet to make it perform other functions.
For example, one module (productive module) serves as a dock and extra battery, while another (presenter module) equips the tablet with a pico projector for presentations and HDMI port with sharing support.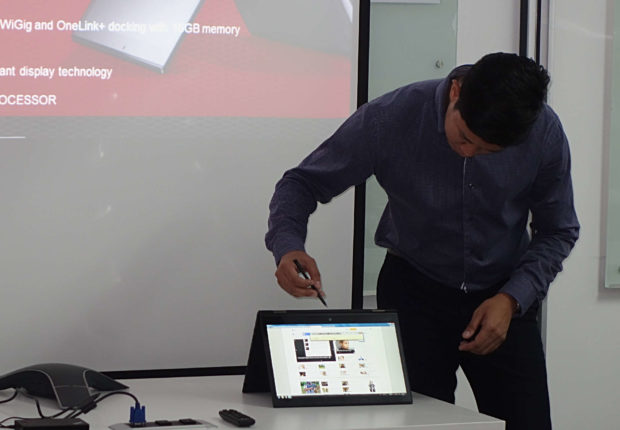 The tablet also comes with a stylus pen for drawing, writing or editing documents. You can also attach a keyboard module to the tablet to transform it into an instant laptop.
The ultra thin and light ThinkPad X1 Yoga convertible, which is also 4G LTE-capable and comes with a stylus pen, features four ways you can use it—as a laptop, stand, tent, and tablet mode. It is also the first convertible to feature a Samsung OLED display.
It is powered by Intel Core i7 vPro up to 1 TB storage and comes with a convenient retractable keyboard.
PC makers like Lenovo have been transforming the PC into form factors that have the functions and capabilities and even good designs of tablets and smartphones to attract consumers who now rely on data and mobility to perform everyday tasks.
IDC and Gartner continue to report on the decline in sales of PCs as smartphone sales continue to soar globally.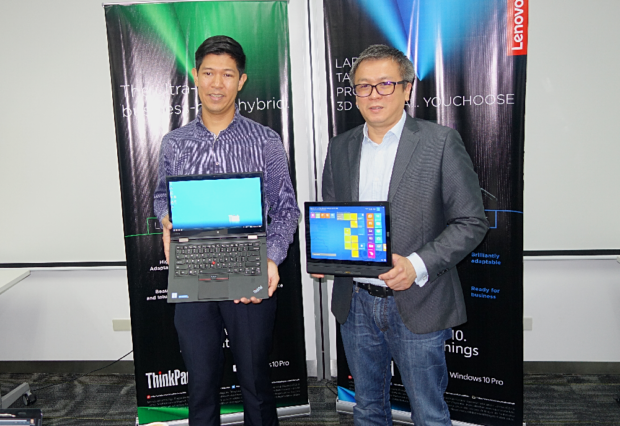 Lenovo Philippines country manager Michael Ngan said the X1 portfolio as premium PCs respond to the demand of consumers for better-looking and high-quality made devices. Lenovo, he says, is now a "design-centric" company "focused on building products where end-users needs' come first. The new X1 family demonstrates Lenovo's relentless pursuit of innovation that elevates the products above the norm."
Similar to the ThinkPad X1 Carbon, the new tablet and convertible PC are made from carbon fibre material (used in building aircraft and race car) that allows these products to weigh less and become very portable and durable.
The new X1 products target consumers who are on-the-go, according to Lenovo Philippines product manager Francis Judan, as these customers look for PCs that are very light, very portable and have long battery life.
"They don't want to be looking for a charging station or tied to a desk. The new tablet with its battery module can provide them 15 hours of productivity."
Both the ThinkPad X1 YOGA, priced at Php132,990, and ThinkPad Tablet X1, Php 83,990, will be available in July. Lenovo also announced an updated ThinkPad X1 Carbon ultrabook with LTE, fingerprint security, and stylus pen will be available in August.
—30—