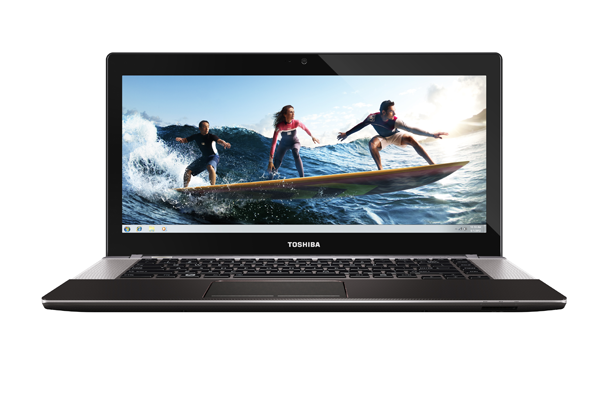 Toshiba's growing family of ultrabooks now includes the Satellite U840W, the first ultrabook to feature an ultrawide 21:9 Cinematic display, and the Satellite U840, the affordable everyday ultrabook.
Both ultrabooks offer a balanced blend of style, entertainment, productivity and portability powered by the latest 3rd generation of Intel Core TM processors.
The Satellite U840 and the Satellite U840W will be available in the third quarter of 2012 in South and South East Asia.
Satellite U840W: The World's First Ultrabook with an Ultra-Wide 21:9 Cinematic Display


Designed with movie enthusiasts and productivity power users in mind, the Satellite U840W is the first Ultrabook of its kind to feature a 14.4-inch diagonal Ultra-Wide HD Clear SuperView display with a cinematic 21:9 aspect ratio.
This particular display is ideally suited for movie buffs looking to enjoy 2.35:1 movies in their original format but without the black bars commonly seen on most notebook displays.
The distinctive display is also ideal for multitasking, providing more space for better split-screen viewing of word-processing applications, streaming videos, social networking, browsing and instant messaging.
The Satellite U840W also allows users to utilize the extra display space with the Toshiba Split-Screen Utility that offers pre-configured and custom viewpoint grids to support multiple windows on the display.
The Satellite U840W's high-grade picture quality is complemented with the natural sound delivered through stereo speakers from Harman Kardon and SRS Premium Sound 3D audio enhancement.
The Satellite U840W is constructed out of machined aluminum and features a luxurious soft-touch trim. Delivering a sophisticated styling and comfort in a lightweight package, the Satellite U840 measures less than an inch thick. It features a LED backlit raised tiled keyboard and ClickPad.
Key Specifications:
• 3rd generation Intel® Core™ processor for Ultrabook™
• Windows® 7 Home Premium
• 14.4-inch diagonal Ultra-Wide HD Clear SuperView display with 1792 x 768 resolution
• 500GB + 32GB solid state hybrid hard drive
• RAM: up to 10GB DDR3
• Full size ports: 3x USB 3.0 with 1x Sleep and Charge, HDMI, multi-card reader, 10/100Mbps Ethernet
• Wireless connectivity: Bluetooth® 4.0, WLAN (802.11b/g/n)
• 1.3MPixel camera
• Harman Kardon® stereo speakers and SRS Premium Sound™ 3D, hot key for volume control
• Large ClickPad™ with gesture support, full size A4 keyboard with backlight
• Toshiba Sleep & Music1
• Dimensions: 368.5mm x 200mm x 20.8mm
• Weight: starting from 1.58kg (depending on configurations)
• Color: Brushed aluminum with dual finish
Satellite U840: An Affordably-priced Everyday Ultrabook with High Performance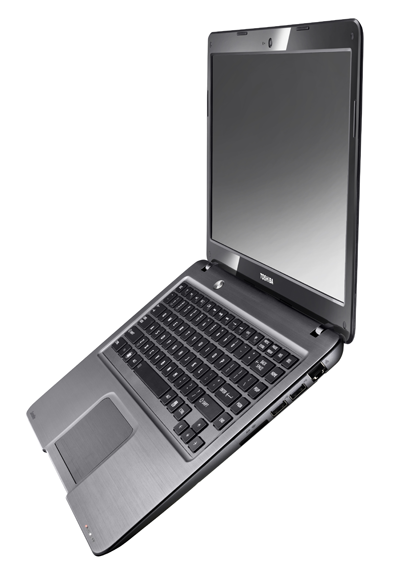 An Ultrabook designed for everyday productivity and entertainment, the Satellite U840 delivers an ideal mix of portability, features and performance. With a thin and light design, the Satellite U840 features a 14-inch diagonal HD Clear SuperView display and the latest 3rd-generation Intel Core TM processors. Selected models are also equipped with dedicated graphics processor supporting 1GB of dedicated graphics memory for enhanced entertainment experience. The Satellite U840 supports SRS Premium Sound 3D audio enhancement for an immersive surround sound experience with a deep, rich bass and crystal clear treble.
The Satellite U840 features an attractive silver-colored aluminum casing with hairline finish. For greater ease of use, the Satellite U840 also comes with a full-sized, backlit tiled keyboard and a large Clickpad with gesture support. Despite its thinness of just 19.9cm and a starting weight of 1.59kg, the Satellite U840 packs a powerful battery that powers the Ultrabook for up to a whole working day without the need to recharge.
Key Specifications:
• 3rd generation Intel® CoreTM processor for Ultrabook™
• Windows® 7 Home Premium
• 14-inch diagonal HD Clear SuperView display with 1366 x 768 resolution
• RAM: up to 16GB DDR3
• 500GB + 32GB solid state hybrid hard drive
• Choice of Intel® HD Graphics 4000 or AMD Radeon™ HD 7550M (1GB VRAM)
• Full size ports: 1x USB 3.0 with 1x Sleep and Charge, 2x USB 2.0, HDMI, multi-card reader, 10/100Mbps Ethernet
• Wireless connectivity: Bluetooth 4.0, WLAN (802.11b/g/n)
• 1.3MPixel camera
• Stereo speakers and SRS Premium Sound™ 3D
• Large ClickPad™ with gesture support, full size A4 keyboard with backlight
• Weight: Starting at 1.59kg
• Dimensions: 342mm x 232mm x 19.9mm
• Color: Ultra Silver