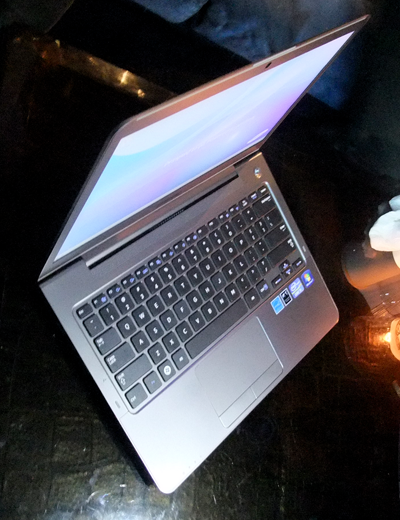 With Intel already setting the next evolution of the PC with the Ultrabook , an ultra thin and light laptop that features pretty metal chassis, speed and power ,and long battery–one PC brand after another has come out with its version of the Ultrabook. The latest company to come out with the Ultrabook is Samsung, which officially announced the availability of the Samsung Series 5 Ultra.
Detailed specs:
Coming in variants of 13-inch and 14-inch sizes and with weight of a little over a kg, the Samsung Ultra features Intel Core i5 and Intel Core i7 processors, 6 GB memory, 1 TB storage with the inclusion of 16 GB solid state drive for the ExpressCache feature.
The 14-inch Samsung Series 5 Ultra, which is powered by the Intel Core i7, is also fitted with AMD Radeon HD 7550M graphics card. With such good specs, it only carries an SRP of P59,900. While the 13-inch Samsung Series 5 Ultra 13-inch carries an SRP of P44,900.
By the way, the Samsung Series 5 Ultra is currently the only ultrabook that included an optical disc drive (ODD), but still it is as thin as a cardboard.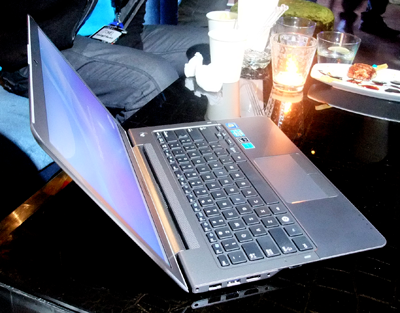 As an Ultrabook, the Series 5 ULTRA is able to do a blazing fast cold boot in just 20 seconds. It will wake from sleep in 2 seconds. Web browsing is twice as fast as the previous generation notebook PCs.
In terms of connectivity, the 14-inch model offers full-size HDMI, VGA, two USB 3.0, one USB 2.0, 4-in-1 multi SD card slot, Ethernet and webcam. All of this comes in an ULTRA Light package of 1.84kg and a thickness of 20.9mm.
While the Series 5 Ultra 13-inch is just 14~17.6mm thin and 1.38kg light and has 500 GB storage and 16GB SSD ExpressCache™ ensures that performance is not compromised. The 13-inch model also carries full-size HDMI and a VGA dongle to connect to new TVs and legacy projectors. Data connectivity is enhanced with a USB 3.0, two USB 2.0 ports, 4-in-1 multi SD card slot, Ethernet and webcam.
Both models carry Samsung's LCD technology with 300nit HD LED SuperBright screen, Image Enhancer technology and anti-reflective screen, enabling users to see contents of the display even under a bright sunlight.
It won't be called an Ultrabook if its battery life doesn't last long. The Samsung Ultra Series 5 can deliver up to 6.4 hours of battery life on a single charge. Samsung Battery Life Plus feature keeps 80 percent of the cell's original capacity in a life cycle lasting up to 1,500 charging cycles or three years.
"With the Samsung and Intel partnership we can jumpstart the adoption of Ultrabooks," said Eric Sulit, business director of IT at Samsung Philippines. "Our findings strongly indicate that consumers demand more than just thin and light devices; they also want higher levels of performance, bigger storage and longer battery life."