Sony would still refrain from calling it an ultrabook, but the new Vaio T Series has all the hallmarks of the Intel-backed new PC product like having a thin profile of only 17.8 mm depth, weight of only 1.6 kg (including battery already), rapid wake feature (instant on in others) that allows the notebook to resume in only 2 seconds, hybrid storage (SSD and HDD), and pretty metal chassis.
Coming in 11-inch and 13-inch form factors, the Vaio T Series of laptops are described by Sony as a "new Sony mobile PC created to rival the ultrabook."
Sony could boast that the Vaio T is a rival to the ultrabook by equipping the laptop with features that ultrabooks do not have.
For example, the Vaio T has full-featured connectivity and integrated ports, which are necessities for business executives on-the-go who do a lot of presentations.
It has VGA and LAN cable connectors, USB 3.0, USB 2.0, and HDMI ports, as well as Memory Stick and SD card slot, so it can connect easily and directly to the devices you need such as desk monitors, projectors and Ethernet without the inconvenience of mini and micro connectors that require dongles.
The Vaio T can also be upgraded as the laptop features a traditional laptop bottom that can be opened, allowing users to change components such as RAM and HDD.
The Vaio T also features Sony' proprietary technologies such as xLOUD and Clear Phase technologies that boost volume levels without distortion for impressive music, movie, and gaming experience.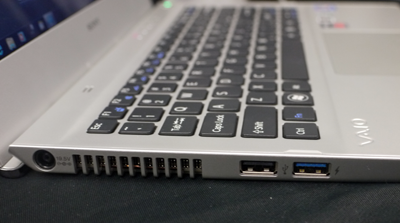 Sony's Exmor technology is also present in Vaio T. Exmor provides clearer and sharper images with the built-in HD web camera, so users, particularly in video chat, can see images with higher contrast and richer colors even in low light condition.
The Vaio T also has a bigger multi-gesture touchpad to allow plenty of space to navigate pages, edit photos with fingertip scroll, flick, pinch/zoom and pivot movements. One USB port can also charge mobile devices even when the laptop is on sleep or turned off.
Sony also made the Vaio T controllable with gestures. It's actually an application that once engaged allows the user to flick through web pages or photo gallery and adjust music volume with "rotate" movements of the fingers. Gesture Control functions with the help of the laptop's web camera that determines the movement of the fingers. It is currently supported by Sony Media Gallery, Windows Media Player, and Windows Internet Explorer 9.
The Vaio T also has a "WEB button" that once pressed allows speedy access to the web without booting up the system.
The Vaio T is fitted with third generation Intel Core i5 processor clocked at 1.7 Ghz but can turbo boost up to 2.60 Ghz.
Now here are some "ultrabook" features of the Vaio T:
The Vaio T is like a smartphone in the sense that you don't need to shut it down. You just put it to sleep and once you open the lid, the system resumes in less than 2 seconds.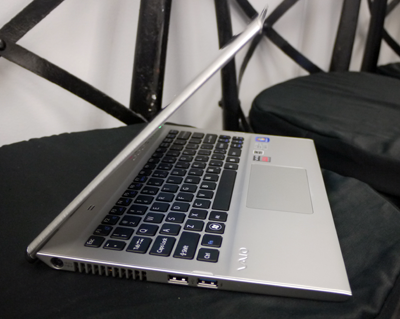 The Vaio T Series has Intel Smart Response Technology, a hybrid drive composed of a HDD and SDD (solid-state drive) that provides faster data retrieval than with a HDD drive alone.
To further increase its usability, new VAIO T has comfortably-spaced keys with keyboard backlight for error-free low-light typing.
And as to the price, the VAIO T 11.6" retails for P47900, while the Vaio T 13.3" retails for P49990–SRPs that are also similar to ultrabooks.