Japanese electronics giant Sony pushes the envelope for "hybrid" products further by coming out with the Sony Vaio Tap 20, which is a combination of tablet and conventional desktop PC.
Sony had already introduced an all-in-one desktop PC with touchscreen functionality before, but the new Sony Vaio Tap 20 is slimmer, portable, and features a full-adjustable 20" touchscreen and integrated battery.
The all new Sony Vaio Tap 20 is a combination of the tablet and conventional desktop PC. It features a fully-adjustable 20" touchscreen and integrated battery.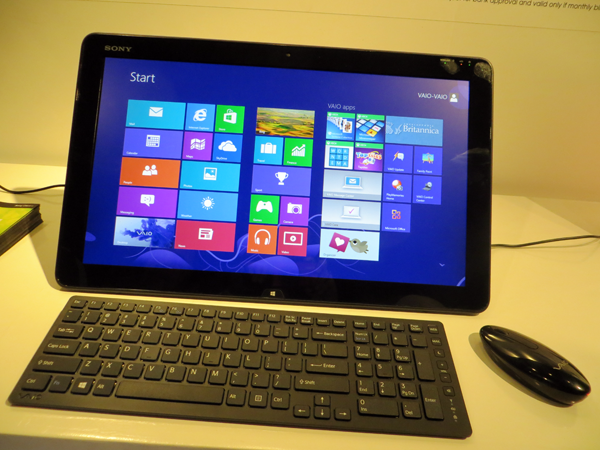 With the new PC product, Sony intends to transform home computing into a fun, engaging experience.
As an AIO PC, the Sony Vaio Tap 20 has a flexible stand, which allows it to be positioned from multiple viewing angles. You can lay it flat on the floor to let users engage in activities such as play board games on its multi-touch panel screen, sketch pictures, and more.
It features Microsoft's Windows 8 OS, which is already touch-optimized, similar to a tablet or a smartphone. Imagine enjoying a tablet with the humongous size of 20 inches boasting of 1600 x 900 screen resolution.
When in desktop style, the Sony Vaio Tap 20 becomes a fully capable desktop PC that can be used with the bundled PC and mouse.


As a family entertainment device, Sony has bundled the Sony Vaio Tap 20 with some exciting and fun applications.
It comes with Family Paint, which lets users paint, draw and scribble with their fingers, using a range of brushes and textures. Kids will especially enjoy the dual-angle feature, which allows two people to paint from opposite sides, with plenty of canvas thanks to its large 20" screen.
The playfully designed Fingertapps Organizer turns a typical monthly planner into an entertaining life organizer for the whole family.
The "Music" application lets you enjoy your music collection with excellent quality thanks to ClearAudio+ feature, while the "Album" application makes viewing, sorting or sharing pictures and videos fun and intuitive. Both applications lets you 'throw' or stream personal photos, video and music content to enjoy on DLNA compatible large screen TV and audio systems.
Users can also download the "Socialife" app, an application that organizes your social and information world.
The Vaio Movie Creator turns video clips and pictures into short movies, all with an intuitive touch-based interface. In addition to supporting HD and 3D formats, it also lets users upload their work to SNS services like Facebook to share with friends.
In addition, user can always access family-friendly touch application from the Windows Store.
The new Sony Vaio Tap 20 from Sony will be available in the Philippines by end of October 2012.
Spec Sheet
Model VAIOTM Tap
Processor Intel® Core™ i5-3317U Processor
Operating system Windows 8
Memory 4GB DDR3L 1600MHz SDRAM
Drive 500GB HDD 5400rpm
Screen 50.8cm (20") VAIO Display Plus (1600×900) with wide (16:9) aspect ratio;
10-point multi-touch screen
Picture enhancement feature Mobile BRAVIA Engine 2
Graphics Intel® HD Graphics 4000
Others WLAN 802.11 b/g/n; Bluetooth® Ver. 4.0 + HS; Ethernet (1000BASE-T/100BASE-TX/10BASE-T x 1); USB 3.0 (x1), USB 3.0 with USB charge (x1); Memory Stick Duo / SD memory card combined slot; 2.1ch speakers with S-Force Front Surround 3D; HD Web Camera powered by 'Exmor for PC' (1.31 megapixels); Web and Assist buttons
Dimensions (DxHxW) Approximately 504 mm x 187 mm x 304 mm (Minimum tilt angle)
504 mm x 312mm x 45 mm (Maximum tilt angle)
Weight Approx. 5.2 kg (including battery)
Battery Life VGP-BPS21B Lithium-ion battery: up to 2.5 hours of use*9