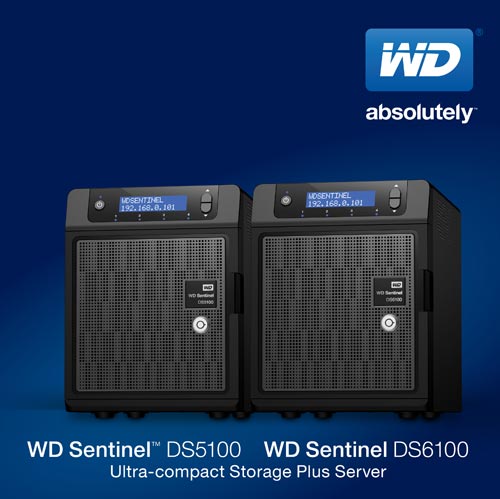 The small-and medium sized companies remain the biggest market for storage solutions.
Recently storage solution company Western Digital has expanded its storage solution portfolio targeting small- to medium sized companies (SMBs) with the introduction of the WD Sentinel DS5100 and WD Sentinel DS6100 (S-series) ultra-compact network storage plus servers.
The WD Sentinel S-series feature high-performance Intel Xeon processors and are pre-installed with Windows Server 2012 R2 Essentials.
These network storage products, which have 4-bay desktop appliance, feature enterprise-class WD hard drives, which, when combined, can offer up to 16 TB of raw storage.
Unlike traditional NAS systems, the WD Sentinel S-series allow small businesses to run line-of-business applications on their network storage platform.
According to Bill Evans, general manager of WD's business storage solution, the company is using enterprise-class components for its new family of network appliances for small businesses.
For example, he said the WD Sentinel S-series are engineered with Intel Xeon processors, pre-populated with WD Se datacentre 3.5 hard drives for rapid 3.5-inch hard drives for rapid deployment, and feature dedicated 2.5-inch boot drives for maximum reliability.
"No other vendor offers a comparable network storage plus server in an equally small form factor. With a small footprint and quiet fan, an S-series appliance can be deployed anywhere."
The WD Sentinel S-series is a fully configured native Windows Server—unlike the operating system of competitors' products which are proprietary. Thus, customers using the WD Sentinel Series can deploy thousands of Windows applications.
"Windows Server 2012 R2 Essentials gives customers the benefit of built-in, groundbreaking, low-cost storage technologies, and WD's Sentinel S-series hardware helps small businesses take advantage of these technologies," said Jamie Hamilton, director of marketing, OEM Division at Microsoft Corp.
With the WD Sentinel S-Series, businesses gain enterprise-class reliability with dual dedicated boot drives (optional on WD Sentinel DS5100), dual gigabit Ethernet ports, and dual external DC-in power adapter ports. This engineered redundancy, along with a bezel lock for physical security, all add to the reliability of this ultra-compact network storage plus server that can be deployed virtually anywhere.
The WD Sentinel S-series is a complete, fully-configured solution with automatic backup and restore software for up to 25 users and 50 computers, all at a very affordable price that starts at PHP 135,990 MSRP.
By combining a single solution for both storage and server requirements, the WD Sentinel S-series appliances are a great solution for any small business looking for their first server.
Availability
WD Sentinel S-series appliances are available today at selected retailers and distributed by Iontech. The WD Sentinel DS5100 is pre-populated in capacities of 4 or 8 TB. The WD Sentinel DS6100 is available with capacities of 8, 12, or 16 TB.