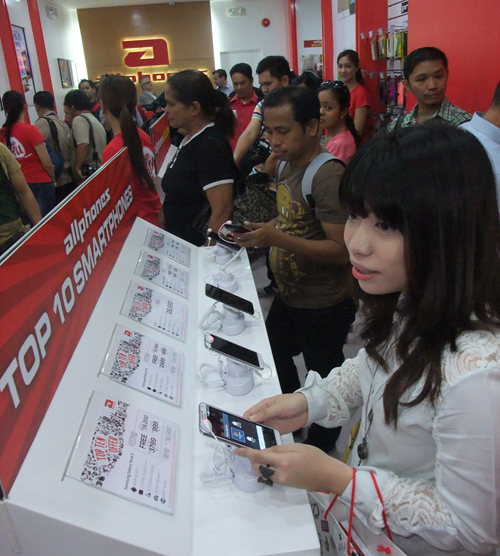 Allphones Philippines recently opened its 50th store located inside Robinsons Galleria in Ortigas.
A store that allows consumers to experience and try the gadgets inside a welcoming environment with staff who knows the products, Allphones Philippines is the newest telecoms retail chain in the country. It has expanded to as many as 50 stores across the nation in just a few months partly because of the success of this setup.
Filipino mobile phone users deserve a better experience when it comes to buying mobile phones and accessories, according to Maureen Gallant, Marketing Head of Allphones Philippines. She adds the store is all about providing customers a leveled-up mobile phone retail experience.
The opening of the 50th store is a "milestone for both the company and the mobile phone retail sector in general. The speed of expansion and the broad reach that the company has achieved is something rare, considering that we are a new entrant in the market," she says.

The efficient store design makes shopping for a smartphone or accessory very easy and enjoyable. The mobile phones on display are in full-view, and live units are available for customers to sample and play with. The hands-on experience helps a customer decide if a gadget fit his or her lifestyle.
Allphones stores also carry the widest range of mobile phone models and brands; there are also accessories and other gadgets. The customer can browse and inquire about all these while being assisted by an Allphones store staffer who is friendly and knowledgeable about the products in stock. Overall, choosing a mobile phone at the store is an exciting and convenient process.
At Allphones store, not only can the customer tinker with high-end smartphones before a purchase, customers can also apply for a Globe postpaid plan.
Allphones stores also offer most value-for-money deals on its mobile phone kits, and postpaid plan accounts. You can get the latest, most advanced mobile phones at huge discounts or even for free depending on the postpaid plan that you choose. These postpaid plans are not only packed with features and services but also very affordable. Features include unlimited voice calls to Globe postpaid and TM mobile numbers, unlimited texting and unlimited mobile Internet depending on what combination of services you wish to get.
Applying for a postpaid plan is also made efficient. Allphones store only requires you to enter the relevant customer information on an iPad, and the store personnel will make on the spot digital copy of you requirements.
After the launch of its 50th store, Allphones is bringing the fun to the hottest summer destinations in the country through its Allphones Fun for All Caravan.  Special Allphones events and promos will be held in these areas so that more people, especially those on their summer holiday, can enjoy their vacation even more.

"Bringing along a mobilie phone or smartphone on holiday is already a must for us Filipinos. These gadgets allow us to communicate and coordinate with companions during our travel. They let us take photos, express our thoughts, feelings, and impressions, and share these with family and friends and even to our social network. It's all part of making our holidays happier and more meaningful. The Allphones caravan will help make all these possible by making the latest mobile phones and the most affordable, features-rich deals available to holiday-makers," said Gallant.
The Allphones All for Fun Caravan kicks off in Cebu on April 25 and will proceed to Davao; Puerto Princessa;  Subic; Lucena; and Cagayan de Oro.
Allphones Philippines was created through a partnership between Allphones Australia, TAO Corporation and Globe Telecom.
Allphones Australia began as a single store in Mile End, South Australia in 1989. It eventually expanded to 200 stores nationally and has become the largest independent telecommunications retailer in Australia.
For more information about Allphones and the exclusive, amazingly high value-for-money deals it offers, go to www.allphones.com.ph.