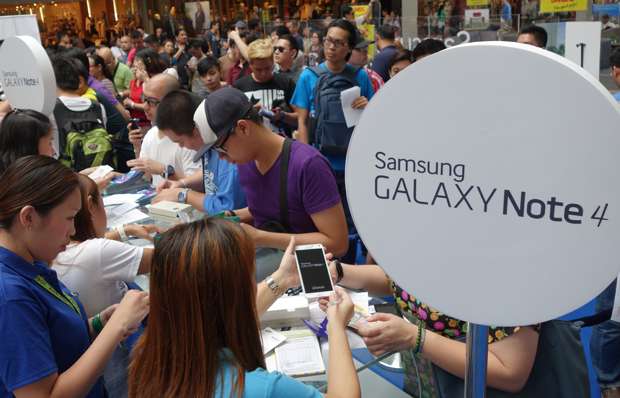 Scores of people flocked and lined up today at Mall of Asia Atrium to finally  get hold of the Samsung Galaxy Note 4, which had its official release and sale beginning October 25 in the Philippines.
According to Adriene Rivera, product specialist for smartphones at Samsung Electronics Philippines Corporation, there were more than 3,500 people who preregistered online to enjoy huge discounts off the Galaxy Note 4's official price of Php37,990.
In fact, four people who registered first in the Samsung website, were able to receive the Galaxy Note 4 for free. The rest were able to enjoy price discounts ranging from Php7,000 to Php3,000. The Samsung Galaxy Note 4 opening sale, which will be until tomorrow October 26, will also offer discounts to consumers who did not go through the preregistration process.
Purchase of the Samsung Galaxy Note 4 during the sale period will also come with two-year extended warranty, three months free access to unlimited downloads of all Summit magazines through MZINE, free download of one full season of any TV show on Seasons, free 100 movies on ClickPlay and zero interest (18 months installment) when using any BPI or Citibank credit card.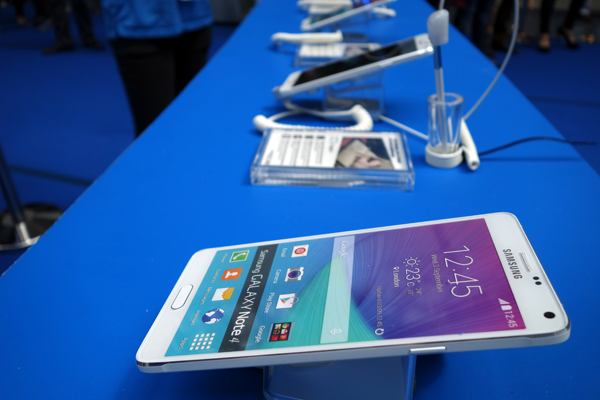 Launched in IFA event in Berlin on September 3, the Samsung Galaxy Note 4 is Samsung's most recent flagship device that features enhanced UX user interface, front and rear camera upgrades, and some additional S-Pen functions. Its hardware, too, also received upgrades as the Galaxy Note 4 is attributed as the first QHD AMOLED screen and the first Snapdragon 805 smartphone to go global.
Almost identical in look to the previous Galaxy Note3, the Galaxy Note 4 combines a leather finish with a metal frame and its 5.7-inch Quad HD (2560×1440) Super AMOLED display features 2560 x 1440 resolution. The large screen allows users to take advantage of the Multi Window feature for easier multitasking.
The improved Multi Window function allows users can choose from full, split or pop-up screens to access applications. They can also easily change the size and positioning of apps on the screen with one intuitive swipe.
​The Galaxy Note 4 is equipped with a 16 megapixel rear-facing camera featuring a Smart Optical Image Stabilizer that counter-balances camera shake and automatically extends exposure time in dark settings. It is also now fitted with a better 3.7 megapixel front-facing camera with f1.9 aperture that offers a default 90 degree shooting angle and up to 120 degree wide angle. Using this phone for selfie can now include more friends in the frame.
The long lines for the Samsung Galaxy Note 4 at MOA is a sure sign of the device's success here in the Philippines. The Samsung Galaxy Note 4 has already hit 4.5 million sales globally according to South Korean outlet News1.