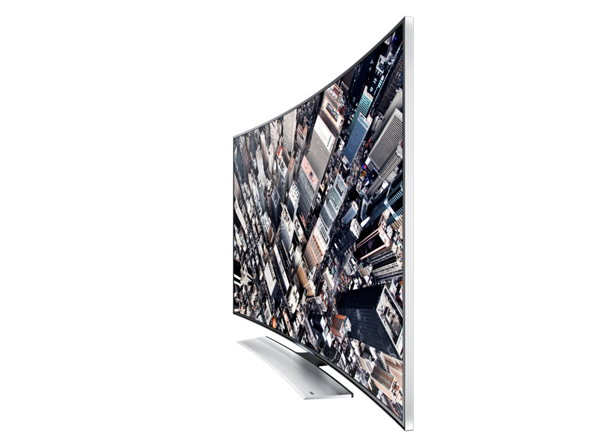 Samsung recently unveiled in the Philippines its Curved UHD Smart TV (4K-resolution), which is available in 78-inches, 65-inches, and 55-inches in all Samsung outlets nationwide.
Samsung Curved UHD TV models start from Php300K to Php500K (price depends on series and size).
The world's first curved UHD from Samsung, somehow, sets a standard for quality visual experience. It will be noted that in the recent development of the TV, Samsung has introduced a number of innovations, which include gesture and voice commands to control the TV, an Android OS-based user interface, which populate the screen with apps, 3D feature, and now the curved ultra-high definition display.
Why would a curved screen be better than a flat display? As the explanation goes, viewing on a curved screen, apparently, offers a more realistic viewing experience—owing to the fact that the human eyes are "curved" in nature and more attuned to seeing better images from a curved surface.
Curved screen formats are already employed in cinema/movie theater technology even before modern TVs adapted the technology.
In addition to the curved surface, the Samsung Curved UHD TV boasts of crisp picture quality, 4x more powerful than that of a Full HD screen.
The Samsung Curved UHD TV's realistic viewing experience is assured even from different angles, more like everyone getting the best seat in the house.
Other Samsung technology at work with the new Samsung Curved UHD TV includes the Samsung Proprietary Auto Depth Enhancer UHD technology, which automatically adjusts contrast for a greater sense of depth and gives a 3D-like effect without requiring glasses.
The color is further enhanced using the PurColor technology that reproduces color for even more detailed expression.
Samsung also improved the Android based UI, making it easier to use. It has a multi-link screen feature that allows dual screens to process separate tasks that operate alongside each other.
The Samsung Curved UHD TV is able to do all these process heavy tasks courtesy of a Quad Core processor (yup, TVs are like PCs now as they are powered by a CPU), which delivers quicker loading and navigation. Browse through the panels for apps, multimedia content, NewsOn features with more with speed.
2014 Samsung TV and entertainment product Lineup: Built for the Philippine Market
Aside from the curved UHD Smart TV, Samsung has tailored this year's product lineup with the Philippine market in mind.
Some of the features worth highlighting on are the internet capability of the TVs, perfect for our social media and internet-savvy Filipino users, and the Family TV feature, that lets family members maximize the Samsung experience with Screen Capture and Sound capture to instantly catalogue their favorite moments on screen for personal viewing in the future.
Plus, all these saved images and information are automatically saved in your USB for easy storage and access.
There's also, Soccer Mode, designed specifically for a more enjoyable sports-watching experience with optimized picture and sound quality. Soccer fans can now zoom in, auto and manual highlight, and record moments throughout the game for a more interactive and closer look at their favorite sport.
And for those hungry for local content, there is Clickplay, (the only Philippine Video-On-Demand App with Hollywood content,) and NewsOn page powered by Yahoo PH.